New DEI Director Kamele McLaren
This fall at GA, Ms. Kamele McLaren will be taking on the role of the new Diversity, Equity, and Inclusion director. She is a mother of four, with three daughters and one son. She was born in Huntington, Long Island, and now lives in Somers, New York. Her favorite genres of music are afro beats, Latin music, and because of her younger kids, Disney. She loves to watch repeats of The Cosby Show and A Different World because of the positive portrayal of families of color.
Starting at age 10, Ms. McLaren was a track runner. She idolized Gail Devers and Jackie Joyner-Kersee. The runners ran the same events as Ms. McLaren and both had very decorated and long nails, inspiring her passion for acrylic nails. Her experience suffering from endometriosis when she was younger caused her to want to do research for pharmaceutical companies. Throughout her middle and high school years, math was her favorite subject because there is always only one correct answer. This later led to her majoring in chemistry and math. The highlights of high school were the friends she made and the experiences she had. Ms. McLaren considers herself fortunate enough to attend an independent school, and she did not fail to be grateful for the opportunities she was afforded. Ms. McLaren's advice to high schoolers is: "Make lots of friends with different people, take advantage of as many opportunities as possible, and get out of your comfort zone." Advice that was given to her as a high school student was: "Focus on you. You are much more brilliant than you may believe you are at this moment and you have a lot of potential."
Ms. McLaren has been an educator for over twenty years, recently resigning from her position as principal of a high school. She has also been an assistant principal, math and science coach, dean, senior advisor, and data specialist. Ms. McLaren says that diversity, equity, and inclusion are embedded in all of her past career paths. Recalling her own experiences at school pushes her to be even more persistent in making sure everyone feels included. She believes that it is important to educate high schoolers to build relationships and try new things. She says, "For us to truly value other people, we need to be willing to step out of our comfort zones and learn more about each other." Her goals for this year at GA are to make her new space welcoming to all, observe what has been done in her position, and fill in areas that need some adjustments by responding to feedback. She chose GA specifically because her daughter, Rylie, is a first grader who loves going to school here and says it feels like home. Ms. McLaren says that the small steps to becoming more diverse and inclusive are rooted in education, involving all branches and levels of teachers and students engaging and learning more about DEI together.
We are so excited to have Ms. McLaren this year as the new DEI Director and can't wait to welcome her to GA!
Leave a Comment
About the Contributor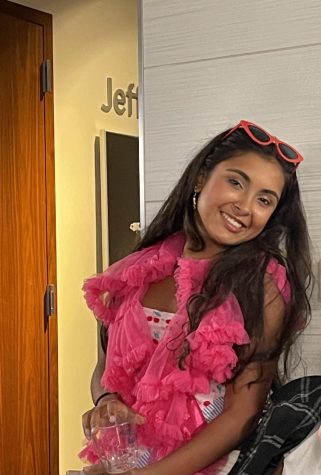 Simrin Khera '26, Staff Writer
When not writing for GAP, Simrin is either playing lacrosse and basketball or at the gym. She can also be found on Greenwich Ave with her friends or at...