Excitement is building around campus for the upcoming Spirit Week festivities. From Oct. 16 to Oct. 22, GA will be commencing its annual spirit week. If you love sports, GA spirit, civvies, or food then Spirit Week is something to definitely put in your calendar.
In the Upper School, every day is a different theme. On Monday, each grade time travels back to a different decade. The freshmen are 2000s, Sophomores are '70s, juniors are '90s, and seniors are '80s. Tuesday is "dress as any character" day. From Adam Sandler to Darth Vader, expect to see it all. Wednesday is when things start to heat up with the wardrobe battle of goth versus preppy. Each student makes the difficult decision of whether to deck out in all black or wear tennis skirts with collared shirts. Next, representatives from each grade decide on an undisclosed theme that is revealed on Thursday. On Friday, my personal favorite, is sports costume day. Every fall athletics team secretly selects a theme to wear.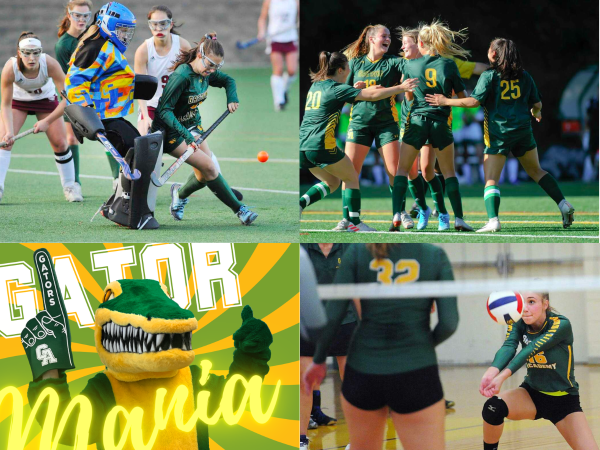 While the civvies days are fun, the real action will be supporting the Gators at the following field hockey, soccer, and volleyball games. Spirit Week kicks off with a varsity field hockey WHITE OUT game against Sacred Heart at 4:15 PM on Monday. Don't miss the JV soccer game on Tuesday at 4:00 PM against King. Varsity and JV volleyball will be playing at 4:15 PM in Raether Gymnasium against Hamden Hall Country Day School on Wednesday. Bu that's not all! The Varsity soccer team plays Westminster on the lower turf at 3:30 PM as well, and…It's HAWAIIAN themed! If you can't make it to the first game, don't worry because the soccer team will also be playing on Thursday against Greens Farms Academy at 4:00 PM. Last but not least, thirds field hockey will be playing against Darien High School at 5:00 PM on Thursday. All of these games are home so there is NO excuse for not showing up!
Although Friday concludes the civvies day themes, the festivities continue through the weekend. On Saturday as we cheer on the Gators, crafts, food, and bake sales will be up and running so make sure you make it to all that GA Spirit Day has to offer. Starting off strong, varsity and JV volleyball will be playing against Taft at 3:00 PM. At 3:30 PM, JV soccer will be playing against Kent. At half time, stop by and cheer on the varsity soccer team at 4:00 PM on the lower field. Can't get enough of spirit week? Please volunteer! If you're available, make sure to sign up for the craft table or bake sale! See you later Gators!