The Songs of August
Already Nostalgic for Summer Vibes? Tune Into Scarlet's Slow-Season Songlist.
Hello everyone! Although it is completely unlike me, this summer I took a very large break from music. Yes—a break. I know. Instead of jamming 24/7 like normal, I immersed myself in the outdoors and had no access to my beloved Spotify. Although I found myself craving the sound of Faye Webster and Fleetwood Mac, it was a really incredible experience that allowed me to appreciate silence. Not to say I wasn't talking about music or singing all the time, because I most definitely was. When one of my friends would sing a song that I enjoyed, I would write down that song in my journal to listen to when I got home. Therefore I gained a lot of new music! Here are just a few that I love. I hope you enjoy them!
"Sometimes" by Faye Webster
I think my past articles reveal that I am a huge Faye Webster fan. Her harmonies are like butter and the sound of blues in her music is truly unique. This song is one of my very favorites on her album I Know I'm Funny Haha. If you want to experience the pure talent and artistry of Faye, I would listen to her new album, Car Therapy Sessions. Her remake of this song titled "Sometimes (Overanalyze)" has a full orchestra behind it! Check it out!
"Those Sweet Words" by Norah Jones
I thank my friend Matilda for reminding me of Ms. Norah Jones. One day while we were hiking, she started singing "Don't Know Why" and I instantly wanted to put on my headphones and listen. Although I was frustrated I couldn't, we sang it for the next 30 minutes together. Norah Jones' voice may just be one of the most calming sounds to ever exist. I love the inclusion of the piano and the delicacy of her tone.
"Naked As We Came" by Iron & Wine
After I had been off the grid for more than a month, my friend Scott pulled out his guitar one night and I almost cried at the sight of it. I didn't have to hold my tears back for long because once he played this song, I immediately started crying. I had never even heard it before and I knew it was special. When I close my eyes and listen to this song, I am transported back to Idaho, sitting under the most beautiful stars I have ever seen.
"Doin' Time" by Sublime
The layers behind this song are so interesting to me! The opening lyric— "Summertime and the livin's easy"—has been sung by artists such as Lana Del Rey, Ella Fitzgerald, and Sam Cooke. Originally created by an artist named George Gershwin, this rendition by Sublime is so unique. I can never put my finger on it… Is it rock, reggae, pop, rap—I never know! What do you think?
"Drunk Drivers/Killer Whales" by Car Seat Headrest
I owe it all to my friend Hayes for giving me this tune! I can confidently say that this song is an incredible window song*. It never fails to make me happy or put me in a good mood.
"Poncho and Lefty" by Townes Van Zandt
The love of music must run in my family because my older sister, Piper, has a radio show at university! Weekly, she plays some of her favorite songs. On her last show of the past school year, she sang some covers (she has a beautiful voice) and this one made a debut. It was so charming I just had to add it to my playlist. Townes Van Zandt just has that classic country sound that you can't get enough of. He really proves that a guitar is all you need to tell a good story!
"I Wish I Was" by the Avett Brothers
My heart warms when I listen to this one. When you listen to this song, make sure to pay attention to the lyrics. "I wish I was a tune you sang in your kitchen / Putting your groceries away and washing your dishes / I could float around your tongue and ease the tension / And then when you were done you'd just quiet down." The Avett Brothers manage to make a love song even more meaningful than the others.
Thank you so much for reading my recs. It means a whole lot to me! Please please please come up to me at school or just shoot me an email if you have some more recommendations or just want to chat about music. I am always happy to talk about what I love! Also, if you want to get even more songs, my spotify is Spfishy.
*A song that is best listened to while looking out the window of a car.
Every month, Scarlet Fishkind '23 shares some of her favorite songs that you should check out! Got something for her to check out? Let her know!
View Comments(1)
About the Contributor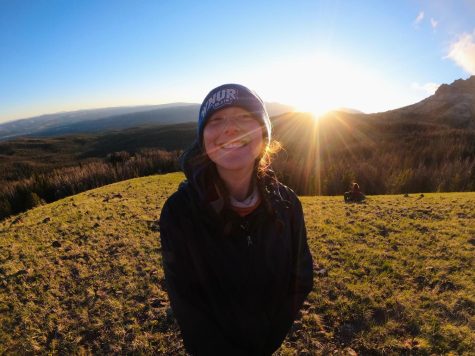 Scarlet Fishkind '23, Staff Writer
When not writing for GAP, Scarlet can be found spending time outdoors or bobbing her head to the blasting music in her headphones.