Random Kid of the Month: Jessie Ong
Each month, Joyce Huang interviews a randomly chosen student. This edition, find out more about Jessie Ong and their hot takes on controversial opinions, astrology, and favorite things at GA.
Tell me about yourself!
I'm a musician and going to college for music. I'm primarily a drummer and pianist, but also lead some school groups. I'm the vice president of the class of 2022, and I have two older sisters who went to GA. I am lactose intolerant and sadly do not have perfect pitch.
How are you?
I'm all right, I just went to Brown and White, so that was fun!
Why did you agree to do this article?
Because you threatened me [This is a lie -Ed].
Favorite GA meal?
The Jamaican jerk chicken is off-the-charts, consistently. It's regular enough that it shows up a lot but it's not one of the "once a year" things but it's still so good.
Favorite course you've taken at GA?
Either AP Music Theory or AP Bio. Probably AP Bio. Or both.
How much of your life would you give up for world peace? Be honest.
All of it.
Current addiction?
I have been consuming more lemonade than my kidneys can handle.
Favorite song right now?
"The Beauty Is," which is from The Light in the Piazza.
Would you rather have a horse-sized duck or a duck-sized horse as a pet?
Give me the big duck.
Last show you watched?
If you meant a TV show: Inventing Anna. If you meant a musical, Hadestown.
What are you looking forward to this week?
Senior Career Day.
What are your thoughts on mint chocolate chip ice cream?
No.
What is a controversial opinion you have?
Is it controversial that milk, on its own, is good? [Bold for a lactose intolerant person to say. -Ed]
Showers: morning or night-time?
Morning.
Do you believe in astrology?
Yes!
Leave a Comment
About the Contributor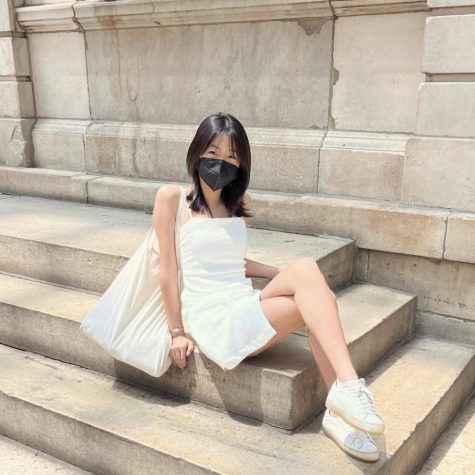 Joyce Huang '24, Editor Emerita
When not writing or editing for GAP, Joyce can be found reading, sleeping, and spending time with her friends. She enjoys the humanities and has an uncountable...