Summer Song Recommendations
Summer sounds like house, soft rock, and classic '60s soul.
Hello again! Since my last article, I have been diving into some genres and time periods that I never thought I would love so much. I've developed some real obsessions. Firstly, '70s Soft Rock has been a constant throughout the month of June. '70s music has always had a special place in my heart because it's what my parents play while washing the dishes, going on car rides, and taking long walks. However, it wasn't until recently that I really ventured into soft rock and started to explore for myself. I started listening to Wings, Carpenters, Jim Croce, the Kinks, and other great artists and groups. Soft rock has been a great outlet for me as the end of the school year approaches. Another obsession of mine is totally different —house music. House is a genre of electronic dance music that originated in the '80s club scene. I never thought that I'd be partying by myself in my room, but here we are. House music is a great way to pump yourself up, whether it's exercise or studying or just for fun. I hope some of you guys can dive into your obsessions and maybe find a love for soft rock or house music like me. Anyways, here are some of my favorite songs of this month! 
"Make a Smile for Me" by Bill Withers 
This song hurts a bit. It has such meaning behind it—the yearning and soul in Bill Withers' voice is so present that it's hard to ignore. I think we can all relate to the power of someone's smile, and Bill Withers does such a perfect job of articulating this feeling. Another great song on his '74 album

'+Justaments' is

"Can We Pretend." I would definitely check it out! 
"Lonely People" by America 
This song can calm you down in an instant. Although it's about being lonely, it's such a comfort to listen to. It is one of those songs that you are so happy to have in your back pocket. At my track meet this weekend, I popped on some headphones on the bus and this song came on. I can tell you right now, with assurance, that it is a great window song. 
"Praise You" by Fatboy Slim
What a fun one! Although it's not quite house music, I still love the pure joy and excitement in this song. Something so amazing about electronic music like this is the work that goes behind it. This song has SIX samples behind it—from artists like the Steve Miller Band and Tom Fogerty. Who would have thought that a blues rock band or a famous guitarist would be behind an electronic masterpiece? 
"Hurts Me Too" by Faye Webster
Oh boy this song gets me every time! It is a sad and soulful waltz with country influence. Webster's use of horns and piano add such a dimension to this ballad. The lyrics too cannot go unnoticed. "I hate that feeling at night / when I thought my eyes were closed / but they were open the whole time / it was just too dark to know." I mean come on! 
"What More Can I Say" by the Notations
I love when artists revive classic soul today, and the Notations do such an amazing job- mostly because it's not really a revival: The Notations are a group originating in Chicago in the 1960s. They got together in high school! To this day, the group has stayed together and continues to release music. If I didn't tell you this song was released in 2015, you would never know! The Notations are able to maintain such timeless, classic soul sound in their music. This song has such age to it. The horns and the drums are just great. A notable cover goes to NxWorries, Anderson .Paak, and Knxwledge. They sample this (explicit) song brilliantly!
"Is It Any Wonder?" by Durand Jones and the Indications
To me, Durand Jones and the Indications are the more modern version of the Notations, mastering a classic '60s soul sound in today's pop world. The high voice, the guitar—they all do it for me! A mandatory sway comes along with this song. 
"A Well Respected Man" by the Kinks
In the mid '60s, The Kinks lead singer Ray Davies went on a luxury vacation in Britain. On his stay, Davies ran into some upper class Brits that supposedly looked down on him because of his working class background, completely disregarding his star status. Davies' response to this was to write a song criticizing the British class system. And did it work—this song began to rise on the

Billboard

charts immediately after release. While listening to these lyrics, it's hard to not jive! There is such a bounciness and energy to this song. 
"Feel Like I Do" by Disclosure
This song is the best tune that came out of my house music craze. What I love about this song so much is that it samples Al Green. If you read my last article (

https://greenwichacademypress.com/1501/culture-entertainment/march-song-recommendations/

), you would know that I love Al like no other!! Using pieces of Al Green's "I'm Still in Love with You," Disclosure perfectly takes a soulful ballad and turns it into an electronic, bouncy tune. I highly recommend listening to Al's song and comparing it with Disclosure. My friend and I love to blast this song in the car, roll down the windows, and just feel the music! 
"Silly Love Songs" by Wings
I thank (Sir) Paul McCartney every day for giving me Wings! Although I don't think I could compare them with the Beatles, Wings definitely makes it challenging to choose my favorite. I won't lie. As I was raving about Wings at the dinner table (as one does), my mom reminded me of this tune. There is something so pure and sweet about this song. Just a simple "I love you" can do it for me!
"Magnolia" by J.J Cale
This is one of those songs that I know I will love forever. If I am ever feeling down, I know I will have this song to calm me down and put me back together again. This song is a blend of soft rock, blues, and country that I just can't get enough of. It's just so simple and heartwarming. You can also check out Eric Clapton's and John Mayer's cover of this song. It's a good one! 
I hope you liked my recommendations for this month! Writing song recommendations is truly my favorite thing to do. I really look forward to telling you all about my favorites of the month, and I just love hearing readers tell me about theirs. As always, I'm all ears when it comes to music. Thank you so much for reading. 
Until next time! 
Leave a Comment
About the Contributor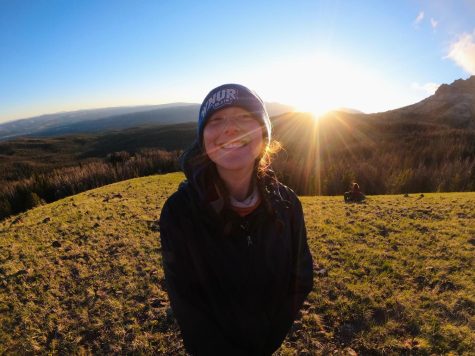 Scarlet Fishkind '23, Staff Writer
When not writing for GAP, Scarlet can be found spending time outdoors or bobbing her head to the blasting music in her headphones.