Meet Halley Quillinan Griggs: Greenwich Academy's New Varsity Lacrosse Coach
This school year, GA welcomes the new co-head coach of its varsity lacrosse program. Read on to hear more about and from her.
On Sunday, June 27, the Greenwich Academy Athletics Department announced Halley Quillinan Griggs as the new co-head coach of the Greenwich Academy varsity lacrosse team. Stepping into the position previously held by Melissa Anderson, who had been a part of the lacrosse team's coaching squad since 2006, Griggs will begin coaching alongside Katie Johnson '88 in the 2022 spring season. While Coach Griggs may be new to the Greenwich Academy community, her experience in the larger lacrosse world is substantial.
A four-time IWLCA (Intercollegiate Women's Lacrosse Coaches Association) All-American at Syracuse's prestigious lacrosse program, Coach Griggs led the 'Cuse team to the NCAA semifinals in both 2008 and 2010. Additionally, she ranks in Orange's top ten for career points, goals, draws, and caused turnovers. A member of the U.S. National Team in the 2008-2009 season, Coach Griggs most recently held the position of associate head coach at Greens Farms Academy in Westport, CT. Coach Griggs has been actively involved in the Fairfield County lacrosse coaching scene since 2018, when she co-founded Triple Threat Lacrosse, a lacrosse development program for female lacrosse players in the area, alongside current Greens Farms Academy head coach Ciara Thurlow.
While her coaching career is expansive, Coach Griggs's experience in the sports journalism world is equally as impressive. She serves as the Women's Director at Inside Lacrosse, the sports' leading publication, while simultaneously appearing as a women's lacrosse color analyst and sideline reporter for media outlets such as ESPN, NCAA.com, and LaxSportsNetwork. 
"I'm thrilled to be joining the Greenwich Academy community, coaching alongside Katie Johnson, and having the opportunity to work with such incredible, dedicated, and driven student-athletes," Coach Griggs said. 
"I have had the opportunity to coach many of the girls' lacrosse players at GA since moving to the area, and what always strikes me is their maturity, work ethic, and kindness. They are fantastic ambassadors for all of the values that Greenwich Academy instills in its students."
Griggs draws inspiration and optimism for the future of the GA lacrosse program from her predecessor, Anderson: "While it is impossible to fill the shoes of Melissa Anderson, I look forward to working alongside Coach Johnson to continue to build upon the success of the GA girls' lacrosse program with the same dedication and passion that Coach Anderson has had over the years."
Leave a Comment
About the Contributor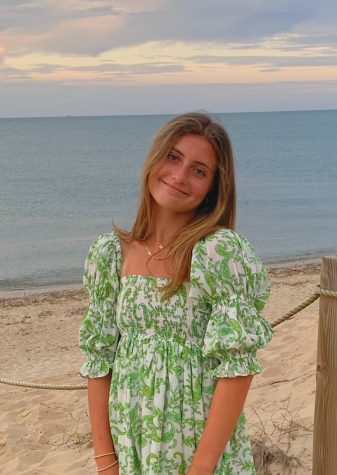 Dylan Casazza '24, Sports Editor
When not writing for GAP or on the field playing field hockey or lacrosse, Dylan enjoys learning about current events, watching true crime shows, cheering...