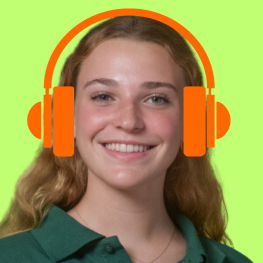 Hello reader! My name is Natalie Bunnell and I am a huge fan of music. Although I can't read or write it and couldn't play "Three Blind Mice" on any instrument even if I tried, I'd like to think that the ridiculous amount of time I spend listening to music compensates for my lack of musical ability. Proof of my passion: My spotify profile (natalie bunnell, all lower case) boasts a whopping 69 playlists as of right now and that number will only increase. Recently, I made autumn edition, which features all of the songs that I have been particularly fond of this fall, and I figured I might share a few with you. You'll find my front runners below.
If any of these sound appealing to you, I please check them out (and, if you have Spotify, you can find them all together along with the rest of my autumn edition playlist when you visit my profile)! As I am constantly searching for new music, I'd love to hear your own fall favorites—please feel free to reach out with them!
"Campus" by Vampire Weekend
This is just one of many songs off of Vampire Weekend's debut album, Vampire Weekend, that make it into my autumn rotation. Its opening notes truly encapsulate the special mix of excitement and slight uncertainty that accompany back-to-school season, and its lyrics remind of the joys of going to school even when inevitable junior-year dread kicks in. Far too often I take for granted Greenwich Academy's exceptional campus (especially when, in the midst of torrential downpour, I must venture across an extremely flooded path to Brunswick). As my setting only becomes more mundane, "Campus" serves as a reminder to appreciate my surroundings before they become rare once again.
"In The Cold, Cold Night" by The White Stripes
Most people know The White Stripes for their classic sports anthem, "Seven Nation Army", or their many archetypal garage rock songs, the most popular being "Fell in Love with a Girl." What I love about the Detroit duo, however, is how they at once create spectacularly riotous, headbanging tracks while also producing many mellow indies. "In the Cold, Cold Night" is among my favorites that fit into the latter category. It's melodic simplicity with Meg White's enticing vocals make for a sense of mystery that, fittingly, mirrors a cold autumn night.
"Pennies" by The Smashing Pumpkins
In addition to a very appropriate band name for autumnal music, The Smashing Pumpkins' alternative sounds make me feel like I'm a character in a grunge indie film biking through their depressing hometown, wearing heavy eye makeup and severely worn Converse. If it's any indication that my vision is accurate, the album that "Pennies" comes from is plaintively called Mellon Collie and The Infinite Sadness (egregiously edgy, I know). I think it necessary to add that The Smashing Pumpkins are actually on tour as I write this and I am very, very jealous of the lucky folk who get to hear this awesome song live.
"Live Well" by Palace
This is probably my favorite song right now. Palace's Leo Wyndham has quite an impressive male voice and the joyous melody of "Live Well" is so satisfying to not only the ear but the soul that I can't help but smile when I hear its opening rumble. In contrast with another song of Palace's that I love, "Bitter," which (as the name would suggest) invariably sends me into a state of rage, listening to "Live Well" is a surefire way to put me in a good mood, and I have surely been embracing it this fall.
"Wasteland, Baby!" by Hozier
On the topic of favorites, it is impossible to list any of my top songs, artists, albums, and lyricists without mentioning Hozier. I truly wish that I could express how much I love his music but there are just no words. So, by including this song, I am attempting to make my reader understand by listening. From a complex yet soothing guitar pattern to Hozier's raw and emotional voice, this song is simply beautiful. Hozier sings about loving another while enduring the death of the planet and the end of humankind—dark and haunting stuff, but it's not as far from our reality as it may seem, and Hozier's poetic genius in expressing it is unmatched. Also, the album cover for Wasteland, Baby! is a painting by Hozier's mother, which I think is a pretty warmhearted homage.
"Helmet" by Steve Lacy
This is the most perfect song to accompany an early morning Path walk—especially when I'm not too embarrassed to be seen nodding my head passionately to the beat, because it's destined to happen. Lots of Lacy's songs have this same effect on me: "Basement Jack," "Some," and "Sunshine" to name a few. But something about "Helmet" is especially boogie-inducing, and it has the unique ability to turn around even the most lethargic of moods in just three minutes and twenty-one seconds. With this considered, it's no wonder that "Helmet" crept its way into my top 5 most-listened-to songs of 2022—and I think it's here to stay.
"Witches" by Alice Phoebe Lou
Talk about on-theme! I first heard this song last fall, simultaneous to studying The Crucible for English X, which in my mind formed an inseparable bond between the two works. More specifically, when Lou sings, "I'm one of those witches babe…Just don't try to save me, 'cause I don't wanna be saved," I can't help but picture Abigail, living in 1692 Salem, Massachusetts, singing along. Alice Phoebe Lou is not a well-known artist but I wish she were. Her sound and vocals compare to those of the more popular Faye Webster and Beabadoobee, so if you like their music, check out Lou's!
"Bewitched, Bothered, and Bewildered" by Ella Fitzgerald
If you walked through my kitchen on any recent Sunday morning, you would catch me perfecting my pumpkin pancake recipe (yes, shameless self-promo for my other article in this GAP edition…go check it out!), and singing along to jazzy classics like this one. I am one to procrastinate all of my weekend homework until I must glue myself to my chair in order to complete it before 8:10 AM the following Monday…But spending Sunday morning in the kitchen with Ella, Louis, Etta, Billie, and Tony is an absolutely untouchable ritual of mine to which no amount of work can intrude upon.
If any of these sound appealing to you, I highly recommend you go check them out (and, if you have Spotify, you can find them all together along with the rest of my autumn edition playlist when you visit my profile)! As I am constantly searching for new music, I'd love to hear your own fall favorites—please feel free to reach out with them!