Local Community Service Opportunities: Give Back during the Season of Gratitude!
Channel your inner Thanksgiving spirit and learn more about the upcoming community service opportunities at GA!
During the Thanksgiving season, it is important to not only contemplate what we are thankful for, but also what we can do to help others. After all, the word Thanksgiving has the word"giving" in it!  Us Greenwich Academy students have so much to be thankful for ― we attend an extraordinary school with an endless amount of opportunities right at our doorstep. So please, extend your gratitude, and lend a helping hand to aid a cause that you are passionate about!
Throughout the year, Greenwich Academy offers an abundance of volunteer opportunities. This past week, I talked with Ms. Meisler, the director of Community Engagement and a 9th grade English teacher, to learn more about different opportunities to help our community.
Even if you do not have the time to participate in community service outside of school, Ms. Meisler says that you can still give back during Ingathering. Ingathering is a meaningful GA tradition that helps 50 families in need have a proper Thanksgiving dinner. According to Ms. Meisler, GA partners with the Greenwich Human Services to deliver Thanksgiving meals right at the doorsteps of 35 families who signed up. Because fewer people signed up this year, GA also plans to make 15 deliveries through an organization called Neighbor to Neighbor, which GA also works very closely with. To help, every student brings in their assigned Thanksgiving food for donation. 
However, for those who are willing to devote even more time to do good for the community, Ms. Meisler offers her advice on how to start: "What do you care about? What matters to you? If you are interested in healthcare, could you help out with creating more access for healthcare? Is there a way to volunteer at a healthcare non-profit?"
To summarize – Do what you love! Community service should be genuine and personal, and don't feel as if you have to follow what others are doing if you are not truly interested in the cause. 
GA offers an extensive variety of different community service opportunities, so you are bound to find at least one that interests you. If you love tutoring, you can help teach English to adults at Building One Community, an immigrant center that helps immigrants feel welcome in their new home. Building One Community also holds homework tutoring sessions for children, so if this interests you, make sure to get in touch with Mrs. Suzanne Vega, the Volunteer Coordinator, at [email protected]. 
If you want to help out within the Greenwich Academy community, greeting Lower School students is a great way to put a smile on their faces. Lower Schoolers are always ecstatic to see Upper Schoolers, and I'm sure they would really appreciate extra attention from the "big girls."
Also, if you're looking for an alternative to traditional sports, the newly-established Community Service Team fulfills the PE requirement! The Community Service Team, run by Jaden Sacks '22, volunteers weekly at various local organizations like the Boys and Girls Club. If you want to become more devoted to serving the community, make sure to sign up for the upcoming winter season because spots are very limited!
If any of these opportunities interest you, please contact Ms. Meisler for the next steps! Even if you don't see anything that catches your eye, Ms. Meisler can also be a great person to talk to as her guidance can help discover the perfect community service opportunity for you. 
So please, channel your Thanksgiving spirit and start helping! After all, Ms. Meisler asks, "Do you want to be a student at a school where you feel connected to the people around you? Or do you want to be in your own little bubble, your own little world?"
Leave a Comment
About the Contributor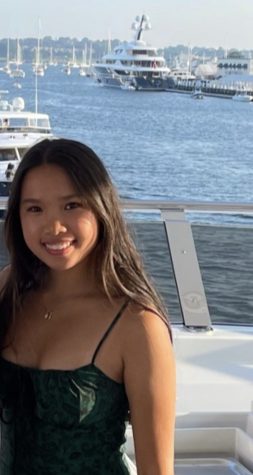 Sarina Kulsakdinun '23, Executive Editor
When not writing or editing for GAP, Sarina is watching figure skating re-runs, testing daunting recipes, or playing with her dog, Milo. She also loves...