Caroline Simmons '04 on her GA Experience, Love for Public Policy, and Road to Mayoral Victory
Following her Stamford mayoral victory in November 2021, I sat down with Caroline Simmons '04 to discuss her Greenwich Academy roots and how they sparked her love for public policy.
This past November, Greenwich Academy alum Caroline Simmons '04 clinched the mayoral victory over incumbent David Martin and Major League Baseball personality Bobby Valentine to become the first female mayor of Stamford. Her triumph should serve as an inspiration, as she was once a Greenwich Academy student just like us. Read on to learn more about Caroline's formative experience at Greenwich Academy, her passion for public service, and her journey to become the Mayor of Stamford. 
Do you remember any of your Greenwich Academy days? If so, what is your best memory of Greenwich Academy?
I started GA my sophomore year and loved it right from the start. The teachers, coaches, students, and administrators were so devoted and inspiring to me as a student and I learned so many life lessons during my time there. Some of my favorite memories were playing sports and the life lessons I learned from Coach Tammaro and all of the coaches at GA. They were phenomenal and helped push us to work harder and challenge ourselves.  I think playing sports at GA really helps girls improve their self-esteem and to be resilient amidst challenges.  
Do you remember any of your classes at GA? If so, what was your favorite class and why?
 I was especially influenced by my English teacher Mr. Feiner. I remember being so enthralled by his classes and the lost generation novels we read, including The Great Gatsby and The Sun Also Rises. My advisor, mentor, and coach, Jamie Brower, was an inspirational role model for me as well and helped me grow on and off the sports field. 
How did you become interested in public policy? Did you develop this interest in high school?
The September 11th terrorist attacks were devastating for our community and inspired me to want to get involved in public service in some way. I was fortunate enough to get involved in student government and Connie Blunden had an extremely significant influence on me. She inspired me and many other students to give back and get involved in community service. She led student service trips to food banks in New York City and she was always reminding us to think about those less fortunate and to help others. We worked together on a school-wide walk-a-thon to raise money for a school in Africa through Save the Children which was really rewarding. GA taught us that at a young age we can make a difference in our community.
Why did you start your campaign for Stamford mayor?
 I loved my time being a State Representative in the legislature, but the ability to have a greater impact on people's lives is directly tied to leadership at the local level. I was inspired to run for Mayor during the COVID-19 pandemic so that I could give back to our city in a time of need. Throughout the pandemic, many of my constituents were and continue to struggle – whether they lost their jobs, can't afford rent, or students missing time in the classroom – and I wanted to make a difference at the local level where mayors and executive leaders have a unique ability to influence people's lives.
What was the biggest challenge that you overcame during your campaign for Mayor?
The biggest challenge was running as a young woman for a seat that has never been held by a woman before. There are still too few women in executive leadership roles and this was a barrier I had to overcome during the campaign, as many people questioned my management and executive leadership ability. 
What do you hope to achieve as Mayor? 
My top priority is to create a more equitable, inclusive, vibrant city where everyone has the opportunity to thrive. This includes advancing economic prosperity for families, expanding educational opportunities for Stamford students, addressing the affordability crisis, fixing our aging infrastructure, and making our city government more responsive. 
Outside of being the Mayor of Stamford, what are your other pursuits and hobbies?
I love playing with my kids, going to movies, playing tennis, doing yoga, and hanging out with friends. 
What is your advice for high schoolers who want to get involved in politics? 
Getting involved in public service is an incredibly rewarding career and it is never too early to start. You can try out student government, join a club, give back to the community with service projects or work with a non-profit. There are many different ways to give back and our state and our country need smart young women getting involved, making their voices heard, and solving the problems facing our community. I highly encourage it and you won't regret it! 
Leave a Comment
About the Contributor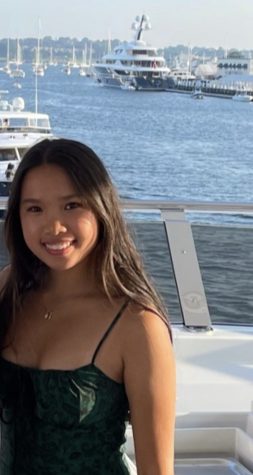 Sarina Kulsakdinun '23, Executive Editor
When not writing or editing for GAP, Sarina is watching figure skating re-runs, testing daunting recipes, or playing with her dog, Milo. She also loves...