Opinion: The Oxford Tragedy & Our Country's Responsibility
How the Oxford shootings point to necessary change.
November 4, 2021, stands as a day to remember in the worst way. At 12:51 p.m., authorities in Oxford, Michigan, received their first 911 call concerning what would be determined the deadliest shooting this year: 11 people were shot within five minutes, with three dead on arrival and the other six rushed to the hospital, one dying the next morning. Ethan Crumbley, the suspect, was charged with 24 felony counts, including a count of terrorism causing death, four counts of first-degree murder, and 12 counts of possession of a firearm in the commission of a felony. Crumbley pleaded not guilty to all of them. 
Crumbley's gun was an early Christmas gift from his parents, bought four days prior to the shooting. His parents were charged with four counts each of involuntary manslaughter due to allowing Ethan access to the gun while ignoring glaring warnings he was on the brink of violence. Warnings such as the note Ethan drew that they were called into the school to discuss on the morning of the shooting, containing sketches of a gun, a person who had been shot, a laughing emoji, and the words "Blood everywhere" and "The thoughts won't stop. Help me."  After seeing this note, Ethan's parents refused to remove Ethan from school and did not ask if he had the gun with him, rushing out to return to their respective jobs. Just a few hours later, Ethan kicked into action and his drawing became real life. 
Michigan, unlike almost 30 other states, lacks a child-access prevention law requiring adults to keep any guns in their homes out of reach of children. Connecticut enacted its own child access law in 2013 as a response to the Sandy Hook mass shooting, which resulted in 26 deaths, including 20 young children. The Connecticut regulations are some of the strictest out of the 27 other states, prohibiting firearms to be stored or kept if a person under 18 is likely to gain access to that firearm without the permission of the minor's parents. Proper storage legally requires a lock or trigger on the firearm and a storage place only accessible by key or electronic accessory. If violated, the parent is liable for damages made by the minor. The law also specifically penalizes parents who fail to make a reasonable effort to halt the possession of the minor, if aware. 
Crumbley held this handgun illegally, obtained because of improper storage and enabled by easy access from his parents. This shooting is a cry for stricter gun regulations nationwide. Besides the note Ethan's parents were made aware of, Ethan flaunted his gun on social media, had videos on his cellphone of him discussing killing people, and had two teachers flag his behavior as concerning. Crumbley's gun, a military-grade weapon, fired at least 30 shots in just minutes and still had 18 rounds left when he was detained by the police. A 14-year-old boy should not have been able to grab this gun for "target practice" and make it to school with the same gun. Without this easy access, Ethan's murder fantasy could have remained just a fantasy. 
Democratic lawmakers in Michigan proposed laws requiring universal background checks, laws introducing child-access prevention, laws banning guns in state-owned public buildings (like schools), increased funding for violence prevention programs and keeping guns out of the hands of domestic abusers. However, the GOP in Michigan is unsurprisingly focused on loosening gun control laws including making some weapons exempt from gun-free zones, reducing the concealed-carry fee, abolishing the state's pistol registry, and exempting gun stores from shutdown orders pertaining to a public health emergency like the Covid-19 pandemic. A Gallup poll in the Midwest found that 60% of respondents believe laws governing the sale of firearms should be made more strict. These out-of-touch legislators are going against the people of Michigan's wants in support of a GOP agenda directly promoting gun usage and upholding gun violence. 
This tragedy should be seen as a call for action and legislation nationwide. Republican lawmakers remain reluctant to even listen to Democratic proposals for increased gun regulation, worried about Second Amendment rights and "waking up in a world they don't recognize." But this tragedy highlights the severity that inaction leads to in a state like Michigan, with looser gun regulations. 
As a nation, the United States has a severe gun problem. Shootings like the Oxford one bring media attention to the issue, but it lies deeper than in anomalies like this one. Sixty percent of gun deaths in America come from suicide, an issue that is not highlighted nearly enough. Even states like Connecticut with stricter gun laws are still affected by gun violence, although there is statistically less gun-related crime in states with fewer guns. Greenwich High School was recently put on lockdown due to a shooting threat written in a bathroom. Even in our own town, students are not able to go to school without being affected by our gun violence problem. 
There is a direct correlation between the number of guns in our country and gun violence, and yet lawmakers are not willing to confront these issues. Everyone constantly talks about the change that needs to be made, but a mass shooting happens and the media covers it for a few days, politicians send their thoughts and prayers, and suddenly the issue is set aside until the next mass shooting, while homicide and suicide rates rage on without the same media coverage. The biggest problem lies in our polarization around this issue, not seen by everyone as the true life-or-death issue it really is. We need to unite as a country against the inaction of politicians towards this life-threatening issue. 
Leave a Comment
About the Contributor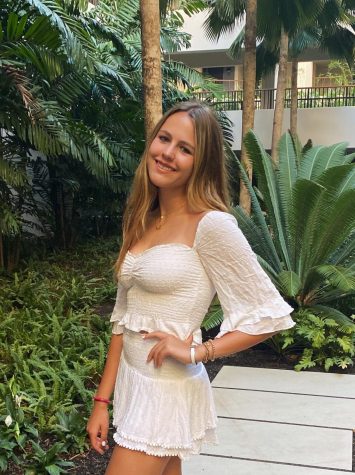 Charlotte Richard '23, News Editor
When not writing for GAP, Charlotte loves talking and learning about politics, watching Gilmore Girls, eating sushi, and maxing out her credit card.