Songs of December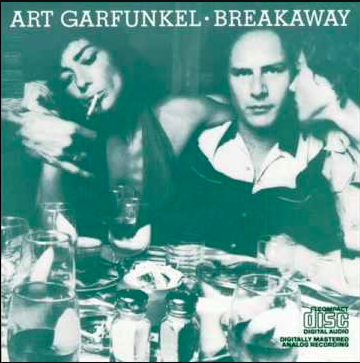 Hello, everyone! It's time I reveal some terrible news. Recently, I have been in a funk with finding new music. I constantly find myself turning to old playlists and longing for some new tunes. One could say I am in a music drought. Therefore, in these desperate times of need, I have been leaning to my family and friends for help. Whether it's my mom, my teachers, friends, or movies, the people and things around me have been my savior in these hard times. And it has actually been a blessing in disguise—I am now diving into new genres and artists that I had never known before! If my music drought can teach you anything, it's to rely on your surroundings for inspiration. Maybe, just maybe, your mom or even your teachers have good music taste too. 
"Waters of March" by Art Garfunkel
When I first listened to this song, a series of questions popped into my head. First of all, Garfunkel minus Simon? I had no idea Art Garfunkel had a solo career. Secondly, what the heck is he saying? "A stick, a stone / It's the end of the road / It's the rest of a stump / It's a little alone." The only thing I knew for sure was that I was intrigued, and couldn't stop listening. It wasn't until I talked to Mr. Lahey, the knower of all music, that I finally understood this tune. He told me that it was actually a cover of a bossa nova song called "Águas de Março" by legends Stan Getz and Joao Gilberto. Bossa nova, a style of Brazilian samba and jazz that was founded in the late 1950s, has been in my back pocket for a while now thanks to my good friend Lara. Now that I understand, I love this song even more. It makes me happy to know that Garfunkel liked bossa nova. Music is so cool.   
"Hearts Aglow" by Weyes Blood
Now I know I said that I loved Weyes Blood in the last article, but I really, really mean it this time. Like a whole lot. On November 18, Weyes Blood released her newest album, And In the Darkness, Hearts Aglow. I pretty much went crazy. My sisters and I agree that it is 46 minutes of pure genius. This song in particular, "Hearts Aglow," is a whimsical, deep, and soulful tune that I can't get enough of. Some of my other favorites on this album are "Grapevine," "Children Of the Empire," and "The Worst Is Done." This album is a must listen!
Cory Wong by Vulfpeck
If you don't know Vulfpeck, it's time you do. Vulfpeck is an American funk group of four amazingly talented men who attended the University of Michigan's School of Music. Their albums, such as The Beautiful Game and Thrill of the Arts, reveal their immense skill and funk, which never fails to make my jaw drop. I highly recommend watching their Live At Madison Square Garden concert of 2019—it is one of my favorite live performances on Youtube hands down. I could talk about them for hours! This song in particular is a staple for me—Joe Dart on the bass is so good it hurts a little. 
"One Of These Things First" by Nick Drake
In this song, Nick Drake interestingly reflects on the decisions he has made in a relationship. Whether a sailor, a flute, or a signpost, he wishes he could have started over and been given a second chance. Although mournful, the chords accompanied by the piano are nothing short of beautiful. 
"Some Other Time" (Live) by the Bill Evans Trio
It's time I finally talk about a true weakness of mine: jazz piano. When I am in the deep depths of a study session or just going on a walk by myself, jazz piano always seems to find its way into my headphones. I love this recording because it's delicate, it's simple. It makes me feel like I am floating a little bit. Because this a recording of a live performance, I can picture myself in a fancy jazz bar and a beautiful dress when in reality, I am in my sweatpants at 10 PM. What is also cool about this tune is that it is sampled in the song "Loving Machine" by hypnotic pop group TV Girl. I highly recommend listening to both songs back to back—it is amazing to see how smooth, graceful jazz piano can find its way into bouncy, futuristic pop. 
"No Man's Land' by Sufjan Stevens
Sometimes the best source of good music is good movies—and this song is a perfect example. One of my favorite movies of all time, Little Miss Sunshine, gave me this song and I am forever grateful. If you have seen the movie, you would know why this song reminds me of a yellow Volkswagen van and makes me smile from ear to ear. 
"Pictures of You" by Drugdealer and Kate Bollinger
What I love so much about this song is the way it brilliantly mixes a nasty, head bobbing funk sound with soothing bedroom pop. It's to die for! Drugdealer on the bass alongside Bollinger's vocals has made this song in my top 10 of November. 
"House at Pooh Corner" by Loggins & Messina
Just as I was writing this review, my mom came down and started to sing along. She is the one who showed me this tune a few weeks ago, and ever since, I can't seem to get away from it. She describes it as "a whole bunch of good feels" and I can't agree more. I love this song because in 4 minutes and 22 seconds, Loggins & Messina transport me to 100 Acre Wood and make me feel little again. And, at the same time, it allows me to connect with my mom as an adult and belt with her on the Merritt. 
Thank you so much for reading my recs. It means a whole lot to me! Please please please come up to me at school or just shoot me an email if you have some more recommendations or just want to chat about music. I am always happy to talk about what I love! Also, if you want to get even more songs, my spotify is Spfishy. 
Other Songs to Check Out:
"Last of The Loving" by Coco 

"Flood the Block" by Benny the Butcher

"Hymn To Me" by Nightlands

"Know How" by Young MC

"Otter Shadows" by Bibio 

"Hangman" by PACKS

"Strawberry Letter 23" by Shuggie Otis
Leave a Comment