The Best Holiday Hallmark Movies Ranked
Cozy up and pick a Hallmark holiday movie to watch this break.
Hallmark movies, in their large abundance, are prominent in almost every household during the holiday season. Although their plots are extremely similar, they all entertain with shared holiday spirit and joy. Ranked are my top three picks, which are guaranteed to put you right into the holiday spirit! 
1. The best Hallmark holiday movie is "Christmas in Vienna." A young violinist, Jess,  travels to Vienna to perform at the Vienna Music Hall. As she stays with her roommate and meets Mark, a diplomat from the US living in Vienna with his three kids, she begins to fall in love. The movie encompasses numerous holiday activities all in the beautiful setting of Vienna. The story ends with Jess accepting a job in the Vienna Philharmonic Orchestra and Mark declining a job offer from the US to stay with Jess and his kids. This movie is filled with gorgeous scenery and a heartwarming story. 
2. Second on the list is "A Christmas Love Story." A youth choir director named Katherine must improvise when her lead male singer catches the flu. Luckily, a boy named Danny joins. Although Danny is passionate about the choir, his widowed father believes he is too busy to be a part of the group. Katherine is disappointed and in need of a male singer for the choir. She visits Danny's house to persuade his father, Greg, to let him stay. Kathryn gets stuck at their house from a snowstorm and she and Greg start to fall in love. This movie has an incredibly heartwarming twist that encompasses the holiday spirit. 
3. "A Christmas to Remember" is another good movie to watch during the holiday season. Jennifer, an uptight TV chef, films a disastrous Christmas special. Stressed and tired, she takes the week off in Colorado. Whilst driving late at night, she crashes due to the icy roads and hits her head on the windshield. She is taken home by a local veterinarian, John. Jennifer stays with John and his children and gains their hearts over the little time they spend together. After realizing who she was, the townspeople demand Jennifer be collected by her agent and brought back to New York. She realizes that she is in love with John and takes the first flight back to Colorado only to realize John was doing the same thing.
Leave a Comment
About the Contributor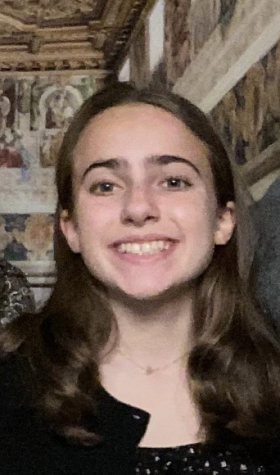 Alessia Cutaia '25, Staff Reporter/Writer
Alessia is a freshman and new writer for the GAP. In her free time, she enjoys reading, playing with her dog, and attempting to bake way to ambitious desserts.