Debate: When Does Xmas Music Season Start?
Find out when GA students start listening to Xmas Music and their reasons why!
Traditionally, the radio station in your car will start playing Christmas music in late November or early December, but there is an informal, societal debate that we don't always acknowledge: When does Christmas music season truly start? 
I wanted to create a platform for this debate to take place and create a safe environment for everyone to display their opinions. So, this article will show multiple sides of a nuanced argument, give general context as to how the students of GA high school feel about this topic, and of course, include some Christmas music suggestions!
Christmas music plays an important role in the commercialization of Christmas, and the earlier the music starts, the more old Christmas traditions become modernized. The season of Christmas music has almost shifted away from the religious celebration of the birth of Christ solely through the popularization of the songs outside of Catholic ideals.
Contrary to this generalization, the consensus of the Greenwich Academy community was that the Christmas music season begins after Thanksgiving in order to appreciate the fall season before diving into the winter. Many students say Thanksgiving is a time to be grateful and appreciative, so they don't want to encroach on it. One student says: "I feel that Christmas season starts the day after Thanksgiving. Thanksgiving is a time for us to be thankful and grateful for all we are so blessed to have. Christmas season begins once we are able to appreciate everything."
In addition to the appreciation of the season, some students mentioned that it is difficult to get into the Christmas music season before winter truly begins. She claims that "without the cold and the start of snow season, Christmas is no fun, like you can't start when there are a lot of leaves on the trees," so you need to "appreciate the whole fall aesthetic to start listening to Christmas music and all that jazz."
Valerie Ruiz '24 agrees by saying, "I start listening to Christmas music one or two days after Thanksgiving…. Once Thanksgiving is over you need to get into the holiday spirit by listening to Christmas music." 
Lane Russell '23 also waits until after Thanksgiving: "Well, I ironically will start the day after Thanksgiving, but only briefly as I blast Mariah Carey's "All I Want for Christmas is You" over a Bluetooth speaker first thing in the morning to wake up my family. I won't actually listen to Christmas music until maybe a week after Thanksgiving to allow one holiday to end and a new one to begin. Plus it annoys my family if I start too early. I really like Christmas, so I don't wait too long." 
However, some students ease themselves into the season, which Kathryn McGranahan '25 spoke to: "I gradually begin to play Xmas music on November 1, but it doesn't become an everyday occurrence for me until after Thanksgiving. Why? Well, Thanksgiving deserves a little time to shine in November but it's still the beginning of the season. Christmas isn't a holiday—It's a whole season." 
Some students start listening a little later than others. One student says she usually ends up listening to Christmas music "through happenstance," but she listens to it intentionally "pretty late in the season, like around the 20th or something because [she's] just not feeling particularly Christmas-y until then." Kira Jones '24 also starts listening to Christmas music right before the holiday. She wrote: "I start December 23, and that is because I listen to it while wrapping gifts."
Kay-D Ferjuste '23 offered her insight on the discussion as well: "Honestly I feel like Christmas music season can start whenever it starts to get cold outside, a little chilly. So whenever you start to break out your black puffers or winter fleeces and have your cute little cup of hot cocoa, that's when the Christmas season can start. BUT (and big but), anything before Halloween is despicable, unacceptable, downright egregious. And yeah, I stand by that."
Some members of the GA community hold rather ardent opinions, and were happy to share them:
Claire Citeralla '25 considers Christmas music as more than simply a season, but rather a lifestyle. She says, "I usually start listening to Christmas music whenever I'm not in a good mood because I LOVE it and it makes me so happy but I really start listening to it religiously during Thanksgiving time." This idea of Christmas music being a source of comfort and joy ties into the commercialization of Christmas music. 
On the contrary, sophomore Joyce Huang, holds a particularly passionate (and extremely controversial) stance on the topic: "I HATE CHRISTMAS MUSIC. Never. Christmas songs are good for nostalgia, but I don't like listening to them, because I feel like they're either from the 20th century, and I've heard them a million times before, or they're by pop artists that I don't like." 
Additionally, I sent out a poll to the student body, and got 106 results! The data correlates with the quotes I received from several students—the day after Thanksgiving is the frontrunner!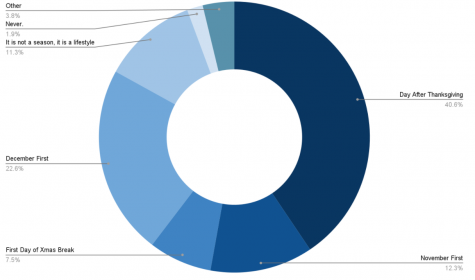 As you can see, there is an extremely diverse selection of opinions held here at Greenwich Academy. I believe it is safe to say there is no right or wrong way to celebrate the Xmas music season.
Here is the list of songs and a link to the playlist (more recommendations are welcome! Feel free to comment or email me with songs you listen to during your Xmas music season):
https://open.spotify.com/playlist/0U0kILnqC0GifWnZpCMH8C?si=3bbf44f5c93f4b1a 
"The Christmas Song":

Nat King Cole version is the best, Frank Sinatra also is good. The rest of the versions are trash

– Anonymous 

"All I Want for Christmas Is You" (Mariah Carey)

"Rocking Around the Christmas Tree" (Brenda Lee)

"Santa Tell Me" (Ariana Grande)

"Let It Snow" (by Dean Martin or Frank Sinatra)

"It's the Most Wonderful Time of the Year" (Andy Williams)

"Underneath the Tree" (Kelly Clarkson)

"It's Beginning to Look a Lot Like Christmas" (Perry Como)

"Sleigh Ride" (The Ronettes)

"Baby It's Cold Outside" (Dean Martin, "the only good version")

"Mistletoe" (Justin Bieber)

"Jingle Bell Rock" (Bobby Helms)

"Santa Claus Is Coming to Town" (Jackson 5)

"Holly Jolly Christmas" (Burl Ives)

"The Little Drummer Boy"

for any

Office

fans out there

(Harry Simeone Chorale)

"Here Comes Santa Claus" (Gene Autry)

"Rudolph the Red-Nosed Reindeer" (Gene Autry)
Leave a Comment
About the Contributor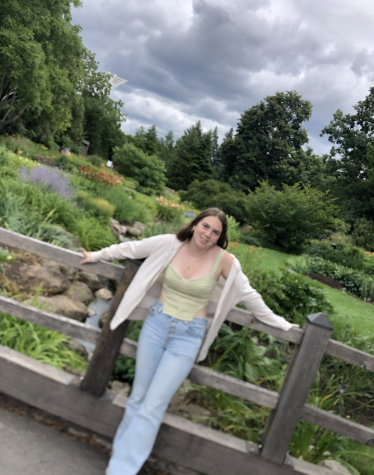 Elizabeth Montgomery '25, Staff Writer
When not writing for GAP, Elizabeth is often reading and designing. She loves all things art related and is prone to frequently picking up new hobbies.