Don't Trivialize Tradition: Understanding Mumming at GA
Learn about the religious and historical significance of Mumming and why it's important to do so.
When the media and school curricula teach us about preserving religious tradition, it often denounces the increasing Christianization in our society and its threat to religious minorities. While Christianization continues to pose dangerous threats to religious minorities and their traditions, hyper-fixation on this point of view leads us to forget about another phenomenon: the growing triviality of Christianity in America. 
It is safe to say that Christianity is ingrained in American culture. Christmas, the holiday that celebrates the birth of Jesus, is a cash generator, and in 2019, Americans spent more than $1 trillion during the holiday season. Meanwhile, church membership dwindles, and the number of practicing Christians among all those Christian-affiliated has declined from 45% in 2000 to 25% in 2020. 
The "trivialization" of Christianity in America leads us all to devalue Christianity's pious traditions. However, this occurrence isn't just a broad observation. It actually takes place right at Greenwich Academy when we celebrate Mumming.
We came up with the idea of this article when we shared the same realization: What does Mumming actually celebrate? We both have witnessed the surreal tableau and entrancing hymns for more than nine years, but we admittedly did not know much, if anything, about the tradition's significance and origin. 
Both coming from non-Christian households, we had overlooked its religious implications. Mumming, to us, was a glorified all-school assembly that stood in the way between school and holiday break. Sure, the echoes of Christmas carols put us into the holiday mood, but nothing more.
Over time, our ignorance nagged us and evolved into the desire to learn more about Mumming's roots. How could we participate in a decades-old Christian tradition without knowing its significance? In our eyes, being solely a participant is not enough. Everyone should strive to understand the cultural and religious roots of Mumming, even if you aren't Christian.
In fact, the growing triviality of valuable practices isn't just unique to us. Dr. Gary Hardcastle, a philosophy professor at the University of Pennsylvania, proclaims that triviality is ingrained in our nation: "Our culture, or at least our nation, is becoming more trivial, less concerned with what matters, by the hour." 
Trivializing tradition is dangerous because values that once shaped our society will eventually become obsolete. Regardless of whether you are Christian or not, tradition is tradition, and tradition should be taken seriously and recognized. 
So, how do we solve this? Hardcastle weighs in on this controversial topic again and advises our nation to find a perfect balance between the trivial and the profound: "I'm inclined to think of a culture, even as unwieldy as ours, as a body, and like all bodies it needs to be kept in balance. One part of it craves the mundane… Another pulls in the opposite direction, toward…the glorious. Either extreme is stultifying, but the balance between them is healthy in the sense that it can be sustained."
Every GA student and faculty member should strive to find this balance. To do our part recognizing the history and religious significance of Mumming, we did some digging into the archives. Here's what you should know:
The tradition of caroling around GA dates back to sometime during Alice Adelaide Knox's era as head of school (1919-1925), and the earliest press coverage of it is dated exactly 100 years ago. On December 15, 1921, the Greenwich Press covered GA's Christmas play, describing its "Old English" theme and procession of students festively dressed up. This procession came with readings of tales from the Bible and carols of "English and French Traditions" ending with the song "Adeste Fideles." 
The original holiday plays held a particularly English theme, reflecting the number of English GA faculty members at the time. Over time, the plays were adapted into scenes from the birth of Christ, including a manger, animals, angels, and three kings. The term "Mumming" was first coined to describe this event at GA in 1946 when the assembly began to resemble something more familiar to our pre-Covid Mumming procession. It consisted of students streaming into the auditorium, singing Christmas carols, and watching the tableau. Ever since then, we've held Mumming (in some way shape, or form) to mark the holiday.
This year, while Mumming looked slightly different than years past, the tradition continued on. Parents of those in Mumming were invited to come to watch as members of the senior class dressed up and reenacted a scene from the Bible. Opening for them, senior singers with the Madrigals sang "Silent Night" and Kate Boer '21 read a passage from the Bible introducing the scene. 
Despite being virtual, through Mumming 2021, GA kept this tradition alive. This tradition connects our current class to those of the past, helping to "link thy strength to all thy past to the glorious future days." 
Armed with an understanding of the religious and historical background of Mumming, enjoy this year's program here: https://vimeo.com/657632229
Leave a Comment
About the Contributors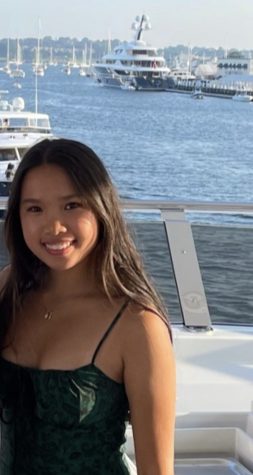 Sarina Kulsakdinun '23, Executive Editor
When not writing or editing for GAP, Sarina is watching figure skating re-runs, testing daunting recipes, or playing with her dog, Milo. She also loves...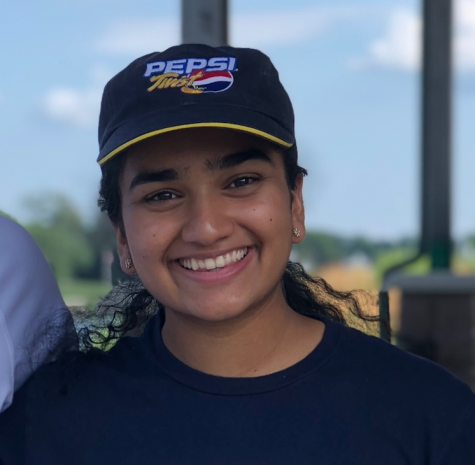 Sara Raghavan '23, Executive Editor
When not writing or editing for GAP, Sara loves to bake with Chef's Table, the Great British Baking Show, or music playing in the background. She also...