Local Politics Opinion: The Board of Education and Why it Matters
Learn more about this year's local Board of Education election and why you should care about local politics.
Although this past election occurred during an off year, it made a significant impact in local politics. One important election in Greenwich politics was the Board of Education. This year, the Board of Education election came down to one singular vote on the Republican side. The Board of education is a bipartisan, eight-member board where each party receives four seats. 
This year, the main issues raised by the candidates were masks and the Covid-19 pandemic, improving district scores, and how the town addresses special education. There were two Democratic candidates running for the two open Democratic seats: Laura Kostin and Kathleen Stowe; as well as three Republicans running for the two open Republican seats: Cody Kittle, Megan Galletta, and Michael-Joseph Mercanti-Anthony. The Democratic seats were challenged by write-in Independent candidate Kara Philibin, but she finished last among the school board candidates. The race between the three Republican candidates became the tightest Greenwich election in years. Mercanti-Anthony became the clear winner, but the margin between Galletta and Kittle for the second seat was less than 0.5 percent. There was a recount, resulting in a win for Kittle by one vote. For the next four-year term, Kittle and Mercanti-Anthony will be serving on the Republican side along with incumbents Karen Kowalski and Joe Kelly and Democrats Kostin and Stowe with Democratic incumbents Karen Hirsch and Christina Downey.
At GA, we sometimes fall out of touch with local politics and the Board of Education can feel especially remote. Since we are not directly affected by the Board of Education, we are not educated on it. However, the issues these candidates raise are important for everyone, not just public school students. Priorities like standardized testing scores reflect on Greenwich as a whole and impact the funding and reputation Greenwich education has. In a debate between the five candidates, hosted by the League of Women Voters, when asked about curriculum, Galletta pivoted to support for removing the mask mandate in schools, citing the "emotional, social perspective" and the direct effect of the mask mandate on students' depression and anxiety. Mercanti-Anthony and Stowe disagreed, but this issue is familiar to all, even private-school students. 
Another debate that came up was the idea of parents' involvement in curriculum. When pivoted back to the curriculum issue, Galletta believed parents should have more of a say over the issue. Kostin disagreed, saying "This is not a system where all citizens get to make the law." The mathematical proficiency of fifth grade students is 29%, an extremely low number. Greenwich receives $32 million in funding for the public schools each year, but there are still cracking walls at Central Middle School. Greenwich also receives more funding than other towns, like New Canaan, because of the Title I Schools we have. A Title I School is a public school where more than 40% of the student body is made up of low-income families. Even with the significant funds allotted to us, we have trouble divvying up the funds throughout infrastructure, curriculum, and special education. Central Middle School is dealing with cracking walls and seemingly no solution, even with the funds allotted to Greenwich. There is no set formula on how to spend these funds, so that becomes the Board of Education's main concern.  
Another important issue is preschool. Preschool is expensive, and Julian Curtis School's preschool program had 202 families applying for 59 preschool spots. With President Biden's Build Back Better plan, universal preschool is included, but even in affluent towns like Greenwich, we do not have universal preschool. Universal preschool helps close the quality gap in education and diversify classrooms. Even universal preschool in Greenwich would give opportunity to children whose parents cannot afford a school such as GA for preschool. 
We are all privileged to attend GA and should not lose sight of the Greenwich public school community just because we are not directly affected by it. These important issues impact all of us and a strong public school system is critical to all Greenwich residents. The Board of Education helps refine these schools, and this past election reflected what the citizens of Greenwich want in their public schools. Even though Galletta's hyper-fixation on the mask mandate and parent-driven curriculum was deemed controversial, she only lost by 1 vote, suggesting the controversial beliefs were more popular than it seemed. We should all focus on local politics and strive to learn more about what is going on directly around us, not just in America as a whole.
Leave a Comment
About the Contributor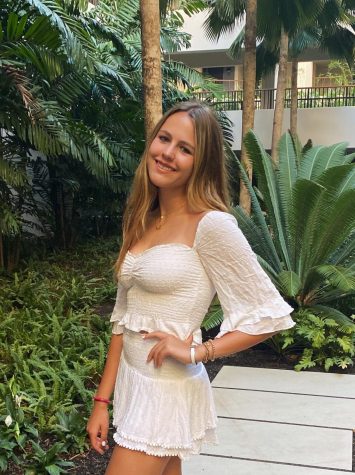 Charlotte Richard '23, News Editor
When not writing for GAP, Charlotte loves talking and learning about politics, watching Gilmore Girls, eating sushi, and maxing out her credit card.