A Look at Affinity Groups at GA
Join us in looking into the importance of affinity spaces at GA (Asian Pacific Islander Desi American Affinity Group, Black Student Union, GSA, HOLA, Multiracial Affinity Group, and White Anti-Racist Affinity Group). To do this, we spoke with student leaders on their hopes and goals for the upcoming year in DEI.
When I was applying to GA in late 2019, one of the things that caught my eye on the school website was the list of affinity spaces under the "Community" tab. At that time, I was an Asian-American eighth grader in a school system where I was often the only person of color in a class with over twenty students. The creation of spaces unique to minorities grants students at GA a sense of belonging and support that can't be found in many other educational institutions in the area.
After being accepted to GA as a freshman, my friend dragged me to the APIDA (Asian American, Pacific Islander, and Desi-American) affinity group, where I met a small but wonderful group of Asian-American students led by Ms. Zhu. We sat down, chatted, and discussed making a slideshow for Asian-American and Pacific Islander Heritage Month. The sense of community that I felt opened my eyes to the importance of affinity groups for underrepresented students. 
In a week jam-packed with home and away sports games and the meetings of almost a hundred clubs, GA sets aside designated meeting times for five different affinity groups: Black Student Union, APIDA, Multiracial Affinity Group, White Anti-Racist Affinity Group, HOLA. During these meetings, often held during certain Thursday flex slots or before/after school, students who identify with the affinity group are encouraged to wind down and discuss their identity as either a minority or white anti-racist.
Although technically considered a club, GA's Gender-Sexuality Alliance (GSA), led by Jessie Ong '22, Kathy Mintchev '22, and Lauren Harteveldt '22, provides a space before school for students who identify as LGBTQIA+ and allies to grow a sense of community. Mintchev says, "GSA is a safe space for everyone, whether that be queer people or allies. Our goal is to make sure queer people can be heard in an overwhelmingly hetero-cis community."
The reach of affinity groups and GSA expands far outside Thursday Flex and meetings before and after school. At the first GSA meeting of the year, members discussed updating the LGBTQIA+ terms on the bulletin board by the side entrance of the Upper School. Additionally, affinity groups often send emails and presentations on their cultures.
These inclusive and non-discriminatory spaces contribute to GA's constant goal of diversifying the student body and faculty and cultivating a sense of belonging for all students. Sara Raghavan '23, one of APIDA's student representatives, says about affinity groups, "[They] are really important because they provide a safe space for students to talk freely about identity without fear of being judged. The creation of these more specific affinity spaces is a wonderful and monumental step that GA's taken in terms of having a more prominent focus on DEI. I think that these spaces will be instrumental towards seeing students' DEI experiences improved."
All students are encouraged by the student representatives during Monday Morning Meetings and through routine emails to check out any affinity groups that correspond with their identity.
As said in a recent promo video that was emailed to us, affinity groups are "the thing you didn't know you needed" at GA.
Leave a Comment
About the Writer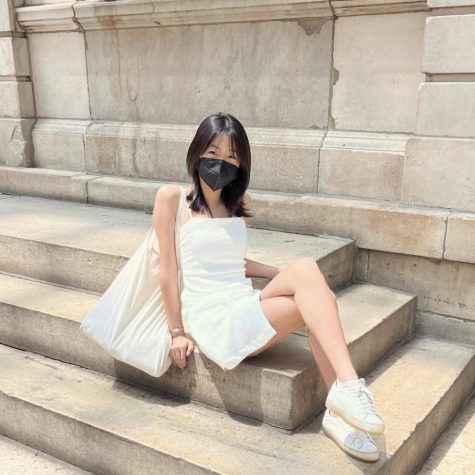 Joyce Huang '24, Co-Editor in Chief
When not writing or editing for GAP, Joyce can be found reading, sleeping, and spending time with her friends. She enjoys the humanities and has an uncountable...