Ridgeview – A Sacred Space?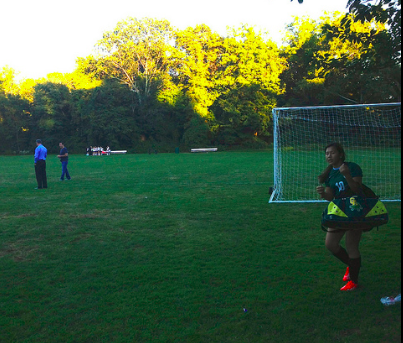 Although Ridgeview is a sacred spot for Greenwich Academy's soccer teams, there are both pros and cons to trekking players and equipment down to the field.
Ridgeview, a lesser-known and separate part of the GA campus, is home to the PC (Pre-Connecting) and CC (Connecting Class) classrooms and our soccer field.  As soccer players venture down Hillside Drive each day for practice, the long walk can feel almost as draining as a warm-up.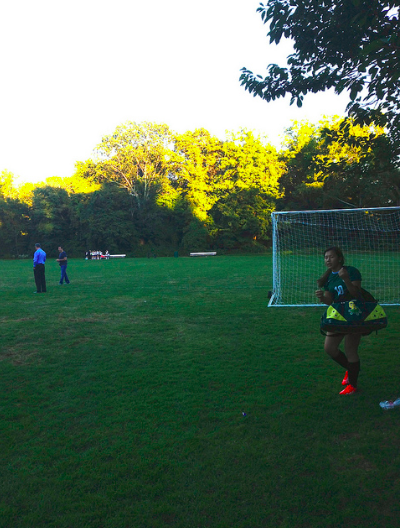 Even though the Angela Tamarro turf– within 100 feet of the Upper School building– is larger and seems easier for the teams to practice on, the soccer field at Ridgeview is essential because its grass is well kept and perfect for playing.
When it leads to shortened practices, however, the trip seems tedious.
"When the walk takes too long and cuts into our practice time, I wish we could take vans to save time," commented Parker Murphy, IX. "When the team walks down we all have to stay on one side of the road in case cars come rushing by." If vans are in the soccer players' future, it might save time, helping both Varsity and JV teams to get down to Ridgeview in time for practice.
"The walk to Ridgeview takes some time," says Graiden Berger, IX, a member of the Junior Varsity soccer team, "but I enjoy it. It's a nice, calming walk." The walk to Ridgeview also allows for team bonding, which the soccer players appreciate despite the distance they have to travel.
Many players also seem to enjoy the privacy that the Ridgeview Field brings– perhaps making the walk worthwhile.
Varsity and JV both have practice space on the field; half the field is allocated to each team. During home games, spectators can sit on the Ridgeview bleachers away from the bustle of the main campus of GA and enjoy a good game of soccer.