Back when showing up to school in the same costume as someone else was the biggest scandal ever, Halloween was one of the most exciting times of the year. Staying up late, dressing up, and eating candy all in one night was the epitome of the childhood dream.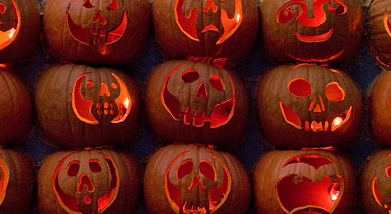 While some memories may be slightly traumatic – personally I was petrified by the all of decorations in my neighborhood – most of us have fond memories of the traditions that surround Halloween. In our young minds, we had our eyes on the prize – the candy – and nothing was more important than dressing up in an original costume. It didn't matter if Halloween fell on a school night, dressing up and going Trick-or-Treating was simply non-negotiable.
However, as we have aged, it seems as though fewer and fewer people are participating in the tradition. Does Trick-or-Treating have an unspoken age limit?
"We are too old to trick-or-treat, but not too old to dress up," said Bella Fiorita, Group XI.
"A huge part of Trick-or-Treating as a child is being able to dress up to become a new character. Even though it is still fun to dress up as teens, we don't have that same enthusiasm to completely transform. It's just not the same," she said.
Another reason many of us don't go Trick-or-Treating is because there is simply not enough time. "If I didn't have homework and tests to study for, I would be dressed up and out there Trick-or-Treating," said Maxx Grossman, XI.
I have to admit that I am still unsure about where I stand. On one hand, I would like to think that I am still a child at heart and that homework alone is holding me back from going Trick-or-Treating. I would like to think that I love going Trick-or-Treating because it takes me back to the days when coloring with crayons was my homework.
While I wholeheartedly wish that I could say that the "magic" hasn't died, it just is not the same. In English class, we call this a loss of innocence. It's not a bad thing and it's not our fault; it's inevitable. The stories we hear and the news we watch all contribute to how our views of the world have changed since we donned our princess costume, pumpkin pail in hand.
The "evil" that we associate with the celebration of Halloween is real, and when you think about it, running around in a costume with a bunch of little kids is pretty sketchy. It could be anyone behind that scary mask, and if I were a parent, I would keep my kids at arms length.
I choose not to go Trick-or-Treating because I fear the judgment of parents on Halloween night whose pointed stares suggest that it's simply too creepy for me to be out associating with their toddlers.
So I would have to conclude that the answer to the question depends on who is asking. If you do choose to go out, enjoy the tradition, but beware – you might get some weird looks.  And if you think that high schoolers are too old to go Trick-or-Treating, there are lots of different Halloween-themed activities that might satisfy your craving to celebrate.  Try carving pumpkins, watching a scary movie or going to a haunted house with some friends.
No matter how you choose to celebrate, stay safe and be smart!