Why I Miss the Tall Man that Sits in Front of Me At the Movies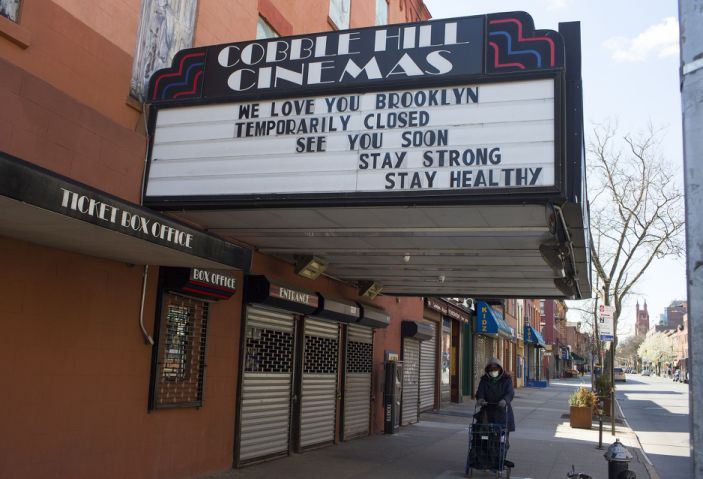 Piper Fishkind '21, Staff Writer
While separated during quarantine, there is one thing that unites us: movies. We all are attracted to the wonders that exist on-screen and the interesting stories that come along with them. Streaming services are experiencing an all-time high and we are now spending more time than ever on our screens. Even though we are socially distanced, we are brought together over our love of cinema. But are we going to be able to visit theaters again? 
Many aspects of our community are being affected by this pandemic and although movie watching has increased drastically, the theaters that used to bring these stories to life are taking a hard hit. Even before COVID-19, Hollywood had been experiencing a decline in box office activity this year. Time Magazine interviewed Richard Greenfield, a media analyst at Shed Light partners, on this very subject; he said, "This was going to be the worst year in movie theater history before the coronavirus hit. This is like pouring lighter fluid on the fire."
With streaming services like Netflix releasing more content now, the appeal of theaters is unfortunately declining. Many blockbusters have been postponed or even delayed indefinitely. Big Hollywood features like Mulan, Black Widow, A Quiet Place 2 have been delayed until further notice. How will theaters function within the safety guidelines of COVID-19?
One movie that has dodged the obstacles of COVID-19, as well as a delayed-release date, is "Trolls World Tour." Perhaps most of you weren't planning to watch Trolls World Tour, but it is an important example of the future of the film industry. Originally, Trolls World Tour was going to premiere in theaters, however, it transitioned into an online release after the stay at home orders were issued by President Trump. Trolls World Tour has already grossed 100 million dollars in its digital release after only three weeks, leaving movie theaters worried. Although 100 million is not as high as the 116 million dollars Universal made in the first three weeks from the original film that started the franchise, it is still enough money to leave theaters questioning their future. After Universal's success with Trolls, Jeff Shell, the CEO of NBC Universal told the Wall Street Journal, "As soon as theaters reopen, we expect to release movies on both formats". This statement left AMC Theaters furious, and recently the CEO of AMC, Adam Aron went as far as banning Universal movies from all AMC Theaters. Aron stated, "AMC believes that with this proposed action to go to the home and theaters simultaneously, Universal is breaking the business model and dealings between our two companies". Will this new, bold statement of banning one of the biggest production companies from AMC theaters be another nail in the coffin for movie theaters?
As an avid movie watcher and devoted movie theater goer, the idea of losing theaters pains me. One of my favorite things to do is to go to the movies. I love the thrill of a big screen, the surround sound, the smell of movie theater popcorn (that CANNOT be replicated at home), and I even smile when I hear the sound of my feet sticking to the spilled-soda-covered floor. Sometimes on a weekend or on vacation, I arrive at the theater mid-morning and return home for dinner. The feeling of excitement and delight that movie theaters bring me is unique and I, for one, would greatly miss the entire movie theater experience. And yes, even though our at-home sofa is super comfy, I would still miss the squeaky movie theater seat, the people who crunch too loud on their popcorn, the tallest person sitting in front of me, the mom who brings her baby to see Jojo Rabbit (and yes, that has happened), or the annoying tween that is constantly kicking the back of my seat. Because those are all a part of the movie experience, and, unlike COVID-19, I hope that never goes away.