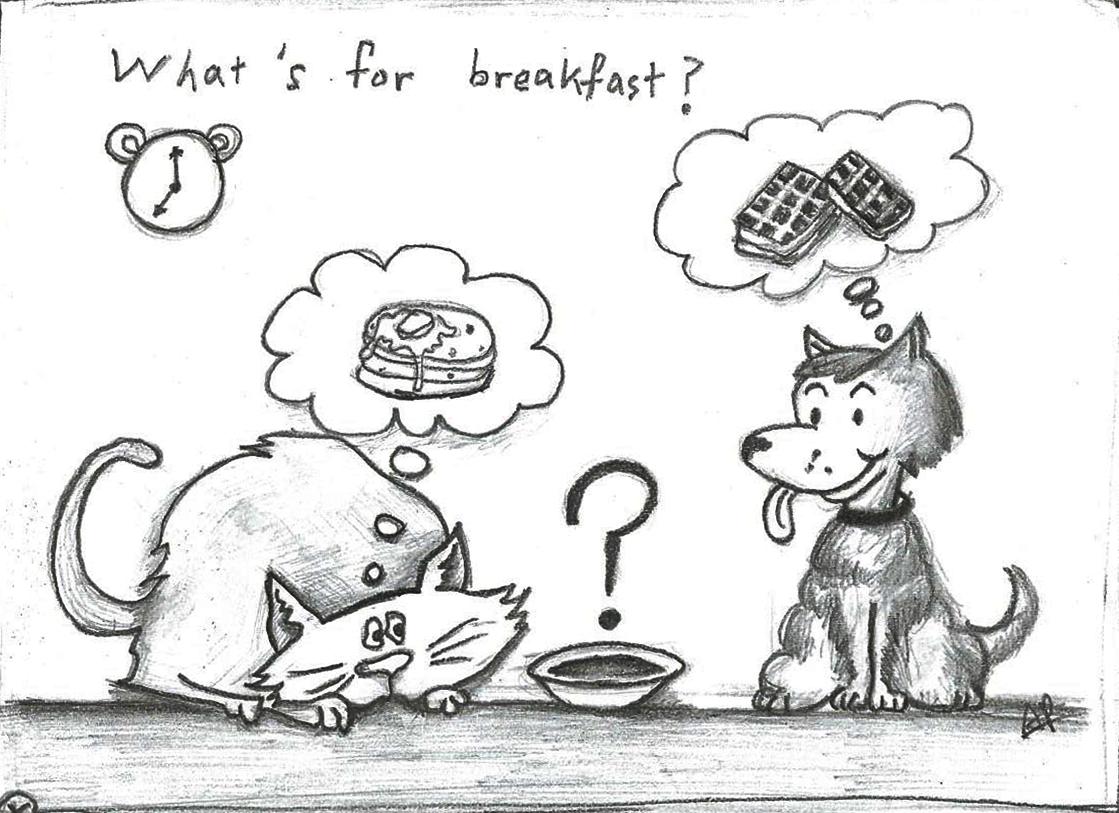 This past month, Greenwich Academy students chose sides in two pressing debates: "cats versus dogs" and "pancakes versus waffles." Below are our survey results:
Waffles vs. Pancakes:
Waffles: 45%
Pancakes: 55%
Dogs vs. Cats
It is as suspected… pancakes and dogs do in fact rule GA hearts. In an effort to encourage some empathy for the undercats (get it? Instead of underdogs!), we asked some waffle lovers and kitty owners to play Devils' Advocate.
Why do you love waffles?
"Waffles are thicker (than pancakes), to a point at which the syrup can soak into them without ruining the texture," explained Ridgeley Knapp, '16
"Pancakes are soft and soggy sometimes…" agreed Kelsey Kranz, '16.
"You can get Belgian waffles… you can't get Belgian pancakes," Morgan Sorbaro, '16 pointed out.
"Waffles definitely have a lot more room for toppings and creativity," said Kate Connors, '16.
"I never have a desire to eat pancakes; I will always eat a waffle," Kranz concluded.
Why do you love cats?
"Dogs are too affectionate for me. I feel guilty when I can't go out to play with them because then they whine…Cats are low maintenance, but they still love you… they're so nice to be around. You can just hang out with them, and they're relaxed" (Maddie)
Maybe waffles are more syrup-absorbent and kitty cats are lower maintenance, but pancake and puppy-lovers are allegiant to their preferences. Below are some GA/Wick dog and pancakes defenses.
Why do you like pancakes better than waffles?
"You fill up after one waffle. With pancakes- you can have six or seven or eight! You can also add bananas and chocolate chips more easily to pancakes without them crunching… (Pancakes) make for an all around better flavor!" (Ellie Garland)
"Pancakes are more fluffy; waffles are more crispy. I like the texture of pancakes more… It's more traditional to eat waffles plain and put syrup and whipped cream on them. But pancakes can have chocolate chips and blueberries" (Chris Cassidy '16)
What is your favorite type of pancakes?
"Oreo pancakes" (Chris Cassidy '16)
Why do you like dogs more than cats?
"Cats are really sneaky and annoying. Dogs are friendly and really cute. I don't have a dog, but my piano teacher does. I see him every week. His name is Cedric; he's really, really cute. I love Cedric; I'd feel like a traitor if I said I prefer cats!" (Sarah Morris '16)
"I have no reason. Because dogs are friendly. (Pause). Cats scare me" (Jesse Tswamuno '16)