Every summer for the last six years, I have found myself in England working for Oxbridge Academic Programs. In 2008, I started out as a Dean in Oxford working with Mr. John Pendergast from Brunswick School and for the past four summers I have been the Director of The Cambridge Prep Experience located in Peterhouse, Cambridge.
Many of my friends and colleagues over the years have asked why I go back each summer. Why do I work fifteen-hour days for six weeks from June to August in mildly temperate and not always sunny weather?  Why not just sit on the beach and read?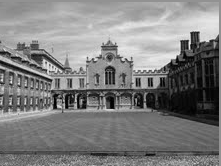 The answer is not straightforward or simple. As a history teacher, there is something magical to me about walking over granite cobblestones and entryways that have been worn down over hundreds of years by scholars who have walked the ground before me. I like knowing that I am sitting on the grounds of the oldest college in Cambridge, founded in 1284, and eating in a hall that still only has electricity on the outside walls so that in winter everyone eats by candlelight.
In an age of electronic convenience and a school year full of fast-paced Fairfield County living, each summer I enjoy going back to a city that is an inspiring classroom, but also one where quiet contemplation is the norm. I also relish working with fellow teachers who are top academics in their fields of study as well as faculty members who are creative professionals and performers.
I also go for the challenge of doing something professionally rewarding that is different from what I do during the school year at Greenwich Academy. It is exciting to be a part of a team that provides the opportunity for students to dive into academic subjects not currently offered in their school curricula or to see students learning in an experiential environment that is counter to their normative academic experience… minus the APs and test prep.
I go for the opportunity to see old friends – those who work in London, Kentucky, or Saudi Arabia – and to meet new ones.  This year, I had the pleasure of meeting and welcoming 184 students into the program.
The students on the Cambridge Prep Experience this summer were a talented and diverse group, representing 28 countries on 5 continents. When you bring such a variety of experience and backgrounds together in one place, it cultivates an environment where people can learn from one another.
Each year, I look forward to the luxury of such diversity.  This summer, in particular, I also got to spend more time with some familiar faces from GA and Brunswick.
Lastly and most importantly, I go back because we have fun.
If you want to check out what we were up to this summer, you can access the Oxbridge blog at