Chicken Feet, Chopsticks and Miscommunications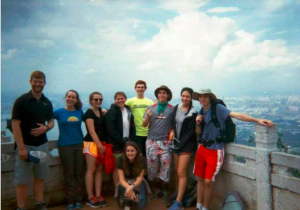 My coworker, Jasper,  sat me down at one of the many computers lined up along the balcony overlooking the rest of the office. I looked at the computer screen only to see a massive toolbar completely in Chinese. Simple tasks like "cutting" and "pasting" had never seemed so foreign to me. I could not understand one word on the screen, let alone begin editing several sources Jasper pointed out to me. I had no idea where to begin.
Jasper asked me to listen to the video, write a manuscript in a word document, then edit relevant clips of the video. He might as well have asked me to build a rocket ship, because at this point I felt beyond screwed.
This past summer, I traveled with nine other American students to Kunming, China, a "small" city of four million in the Yunnan province. This was just day one of my internship at the Yunnan Provincial Television station, and I had four and a half weeks to go.
If someone had told me that by the end of the summer I would be able to navigate a city in China on my own, create connections and friendships with a network of people from halfway across the globe, learn about how the Chinese media portrays international conflict, and actually know how to use the seemingly impossible Chinese editing software… I probably would have laughed.
But I learned, and that blew my mind.
We climbed mountains in the pouring rain, slipped on muddy Kunming sidewalks, played Mah Jhong with natives, attended court cases, got lost for hours, tried to communicate with crazy taxi drivers, elbowed our way onto insanely crowded buses, ate chicken feet and fish eyes, and made jiao zi (dumplings).
We sang, we laughed, we fought, and we pooped… a lot. (thank you sketchy Chinese food and weak American GI tracts). We played guitar, taught village children English, practiced Tai Ji with the pros, dealt with horrible internet service and learned that we as teenagers actually are capable of surviving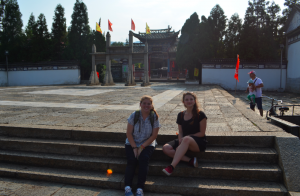 without our cell phones.
On top of it all, the nine of us organized and performed a charity show and raised a grand total of two thousand U.S. dollars for "More For Baby," an organization that benefits autistic children.
When I wasn't in class or at my internship, I was hanging out with my friends, both American and Chinese. In our free time, we were either at KTV (karaoke), working on the charity show, drinking nai cha (milk tea) or simply sitting in the program house, singing Jason Mraz or Jack Johnson.
This summer was the transition from childhood to adulthood for me. I have realized that I want to define my goals and morals. I am starting to clearly see what I want and how it is possible to achieve it. Our instructors prepared us for transferring back into western culture because every day was a challenge in Kunming. A fun challenge.
The sad truth is… friends and family back home just weren't with us. They weren't with us at the dinner table that very first meal at our home-stay or when we got lost for three hours the first night we went out (my bad). Coming back has been hard, but definitely eye-opening. China was most definitely not what I expected and because of that, it was undoubtedly life changing.
By the end of my trip, I figured out how to use that software I had once deemed impossible. Every day, I sat next to the number one anchor and overlooked the news cast set.
The moment that I will never forget was sitting down with my host family in front of their television and watching a piece I had helped edit. It sounds cliché, but I never would have succeeded if I hadn't tried, and I never would have had the opportunity if I hadn't thrown myself into the entire trip.
I may have almost mistranslated several sources, eaten chicken feet, and gotten lost and sick, but then again, it all makes for a good story.