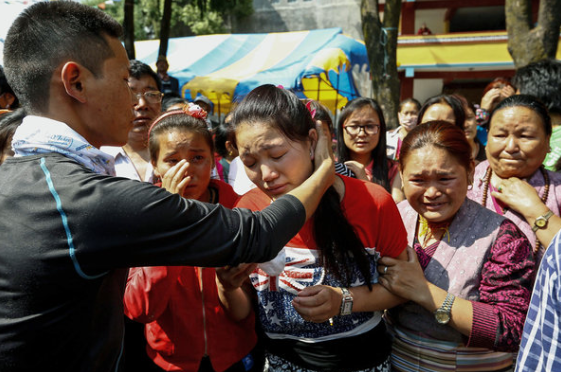 The deadliest avalanche in Mount Everest history shocked the world at around 6:30 a.m on April 18, 2014. The avalanche on the Khumbu Icefall killed 13 Sherpa guides who were carrying oxygen tanks, tents, and other gear up the mountain.
While avalanches are a common threat on Mount Everest, their rate is increasing as the planet warms.
And Sherpas, the local mountain guides who brave the harsh Everest conditions multiple times per year in order to help visiting climbers up the steep slopes, are finding their jobs riskier than ever. A quarter of the hundreds of climbers and Sherpas who have died on Everest were killed in avalanches,
But the risk seems worth the reward given that in Nepal, where the average household income hovers around $500 a year, a Sherpa can make as much as $5,000 a year.
Many families have responded to the increased risk by demanding better wages and benefits from the Nepali government.
After Friday's events, the government of Nepal offered only $400 in compensation to each family of the dead guides, leaving these families angry, insistent on change, and threatening to strike.
In response, the Secretary of Nepal's Tourism Ministry, Sushil Ghimire, commented that strikers are "hooligans," revealing the extent to which the government is failing to acknowledge the travesty of the avalanche.
Sherpas are demanding the government raise the insurance payment to families of those killed to $20,800.
In response to the avalanche, The Nepali government declared 2014 "Black Everest Year" and suspended climbing for seven days. As they decide what to do about climbing next year, government officials have waved off the potential strike of Sherpas workers as an empty threat.
A Sherpa strike would have large consequences for Everest. The shortage of guides would not only devastate Everest's ecotourism, it would also put many people out of work. Sherpa guides depend on expeditions up Everest for their income, and if the Nepali government allows the strike to unfold then there may be hundreds of Sherpas out of work.
Native to the foothills of the Himalayas, the Sherpa people have made a living off ecotourism at Mount Everest for decades. By demanding more pay as a result of the tragic avalanche, the Sherpa people are asserting their right to fair compensation for their many years of daring service.
One thing is for certain: Mount Everest would not be the same without Sherpa guides. As anger rises in Nepal and the threats of a strike continue, it is clear that the catastrophe of the April 18 avalanche has set change in motion.
And it is clear that our warming planet will continue to complicate matters.