Rest in Peace, Katie Belle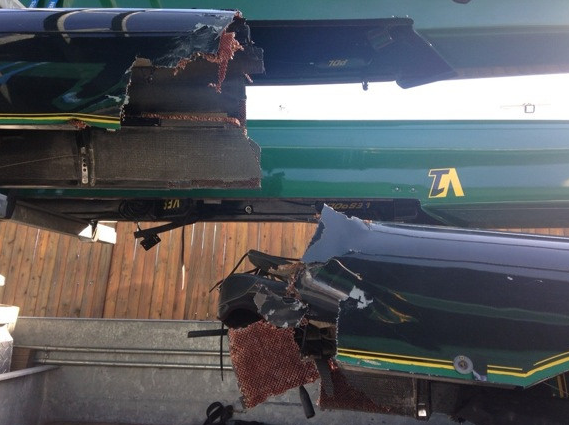 On April 16 on the way home from a race at Choate Rosemary Hall, the Greenwich Academy Crew team lost a beloved member of its community. The Katie Belle, a four-person boat purchased in 2006, broke in half and flew off the trailer on I-95 when one of the straps holding her down to the trailer snapped. Fortunately, no cars were around, so the shell did no harm to anyone in its vicinity.
As the Greenwich Academy Crew team grew in size and repute, sleeker, smoother Vespoli shells such as the Beware, the Will to Win, the Fearless, and the Patsy Howard began to outnumber shells like the Katie Belle.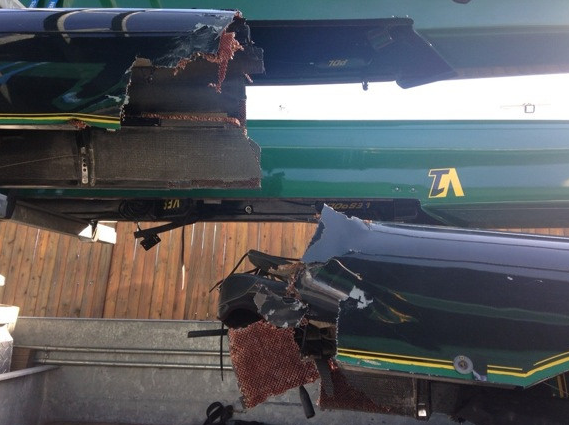 As Phoebe Morris, Group X, politely stated, "the Katie Belle was a reminder of how much our equipment has improved over the years." Her weight was overbearing, her hull was scratched, and her tracks were squeaky.  However, this older shell has still played an influential role in the careers of many GA rowers.
"The Katie Belle was the first four that I ever rowed in and it's sad to see her go," said Adele Whitmyer, X.
Whitmyer is not the only member of the team whose first experience in a four-person boat occurred within the walls of the Katie Belle. Most novice rowers were placed in this boat because of her tough and sturdy build, which made the possibility of tipping highly unlikely.
"The Katie Belle was a part of the heart and soul of this team. We will all miss her so much," said Allegra Milani, X.
The boat's unexpected and tragic death prompted many rowers to reminisce about the their experiences in Katie. They remember the weight of her shell, the constant squeaking of her tracks, and the numerous scratches on her hull.
They also remember the multiple bruises and scars that the boat's gunnels and riggers gave them. Her steering mechanism, more visible than those of the newer Vespoli shells, was another one of her defining features.
"I remember racing in the Katie Belle and even though it wasn't quite as smooth of a race as we may have wanted it to be, I mean we only caught six or seven crabs, I will always look back on that day with a smile," said Cat Tubridy, XII, who is one of the three captains of this year's spring rowing team.
While some rowers admit that they did not appreciate the Katie Belle, they all agreed that their rowing career would not have been the same without her. Some of the most formative moments in GA rowers' careers would not have occurred had the Katie Belle not been a member of the GA Crew community.
It was in her stable shell that some of GA's rowers gained their love of crew.