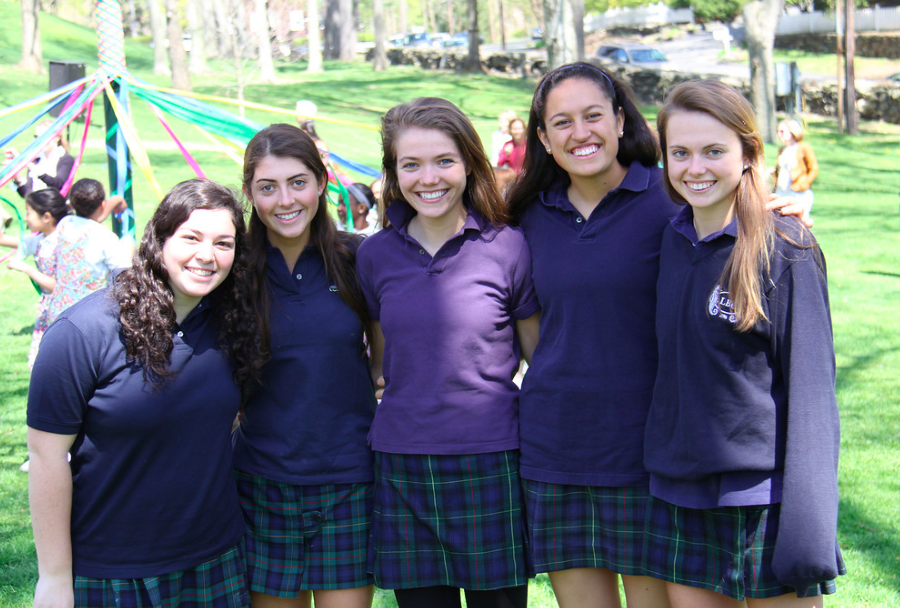 Charter Day is fast approaching! On April 17th, any junior girl planning to run for office was required to submit her name for candidacy. The change in regime provides an opportunity for retrospection. We consulted the reigning class officers to give us some insight into how Forum operates. Whether you're pondering your own election prospects or just want to become a more informed voter, you can benefit from their words of wisdom.
Phoebe Weiss, Group XII, School President
What are the responsibilities of School President?
One of the main responsibilities of being school president is running Forum meetings, and setting up the agenda. I meet frequently with Mr. Sullivan to discuss current concerns or issues that may arise during the year.
Do you feel that you've accomplished all that you set out to do as President? 
I am proud of what our entire student government has done this year. Even though it is spring, I feel as though we have a good momentum heading into the end of the year, and definitely plan on keeping up the positive energy in the Upper School.
Julia Sassi, XII, President of Honor Board
What are the responsibilities of Honor Board President?
The purpose of the Honor Board is to serve as a bridge between the students and the faculty. Additionally, we have the responsibility of sitting in on judicial councils. The Honor Board president, specifically, leads the judicial councils, which I think makes the student involved more comfortable then if it were led by a faculty member.
Do you think that representatives should have more/less power?
I think we have the perfect amount of power right now. In forum, the faculty is very receptive to any ideas we have. They're willing to try to push for an idea we think the student body would benefit from. I also think its great that students have a big role in the discipline process. It's comforting to know that there is a group of unbiased peers on your side. We're really fortunate to have honor board.
Olivia Alchek, XII, Arts Board President
What are the responsibilities of Arts Board President?
My responsibilities as Arts Board President are kind of undefined. There are the legitimate responsibilities to announce and advertise GA productions and art shows; but also there are the responsibilities of following in the footsteps of past presidents, and continuing the ideas they started. Anna Skelsey (last year's arts board president) made arts board more of a unifying force for the school by coming up with activities and games for everyone to play. Kirby Taylor (president during my freshman year) introduced the video of the week as a fun anecdote to start the week off. So I guess that there isn't defined responsibilities, but more to come up with fun ideas for the school to enjoy. I tried to unify the upper school community while still relating to their creative side by introducing the door decorating competition and the Secret Santa.
Why did you decide to run for office?
I'm not even sure why I originally ran for office, but I knew that it was something I've always wanted. I love to get involved with different activities in the school (a little too much, actually) and wanted to represent the school. I felt like I had a lot of ideas that would unify the school more and get everyone more aware of the art around them-whether inside or outside of the GA community.
Harper Robinson, XII, Community Service Board President
What are the responsibilities of Community Service Board President?
The general responsibilities are leading weekly meetings and helping to facilitate and coordinate community service opportunities throughout the school. Also, as president you make sure that the board is active and involved and get volunteers for various projects.
Do you feel that you've accomplished all that you set out to do as a class officer? 
This year my goal was to get girls more involved in community service, and I think that through lunch bunch, the Branching Out Tree, and many other programs and opportunities, the board has accomplished this.
Tyla Taylor, XII, Athletic Board President
What are the responsibilities of Athletic Board President? 
Basically the biggest job is to get people pumped up for sports games and athletic events. I've tried some new initiatives like Fall Festival and Winter Whiteout Week, and definitely something to come in the spring. Additionally I have been able to team up with Community Service which is nice to work with another board through Alex's Lemonade Stand in the Fall and now a volunteer opportunity through the Autism Awareness and Backyard Sports Club.
What is your favorite/least favorite part of being a class officer?
My favorite part is being able to work with the other athletic board representatives and being able to represent for my grade and school. I have loved taking on the work that I have done, and having a close relationship with the athletic administration.
The toughest part of being a class officer is getting people to go to all the sports games. Everyone is so busy here at GA, but I know it makes such a difference when people come out and support. Not as many people showed up to Winter Whiteout Week as I wanted, so I'm really hoping that in the spring more people come and support their friends and fellow classmates!!