The @knightofbrunswick made its way onto Instagram feeds months ago, and recently the knight himself galloped into GA's halls. Though his Instagram account is certainly intended to be a joke, it's worth wondering when a harmless joke goes too far.
The statue's presence near the upper school stairs and in the student center could be interpreted as either a peace offering or a claiming of territory. Some pictures seem to suggest the latter. The knight was snapped at the top of our school's entrance with the caption "Bow down GA. The knight is here."
When asked about the account, one GA student commented, "the 'bow down' quote was annoying, but it doesn't bother me usually."
The knight's presence was followed by Brunswick's annual Valentine rose delivery, during which many GA girls received roses signed by boys who were not the real senders. In some cases, roses were signed with the name of an ex.
"As far as roses go I think it's kind of a cute idea– obviously it's sad for the majority of girls who don't get a rose in their mailbox– but it's Valentine's day, and I think that the flowers should be meant for their actual purpose, so that others may genuinely enjoy them," one student said.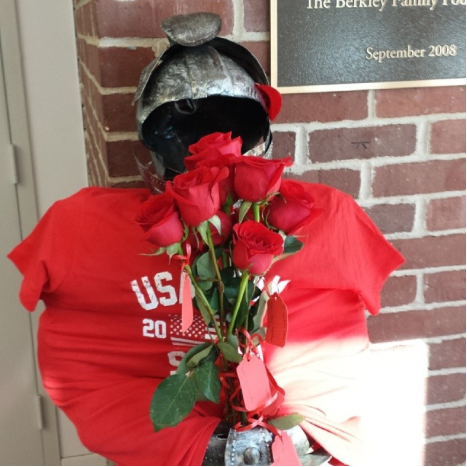 "They can send roses from anyone to anyone which is bad," said another student. "If they are going to do it, then it should have to be from the person that is actually sending it."
Of course not all of the roses were given insincerely. And for those that were, the intention was surely humor, not malice.  It is normal for friends to tease each other.
But if there is not a solid foundation of friendship, a joke can go awry. "I'd say a joke goes too far when it personally offends one person, especially if they're not the comedian's immediate friend," a student said.
This rule might apply to the @knightofbrunswick's most popular post, which features the statue atop one of the student center couches, next to a GA student doing her homework. The caption reads: "Just hanging out with a special someone."
"I think it's cute and sort of funny if she knew they were taking it," said a student, "but if not, that's sort of uncomfortable."
And of course there is the time-honored truism, that if you are going to give it out, you have to be prepared to take it.
How would Brunswick boys react to girls displaying a gator statue around their school, demanding, "Bow down Brunswick"?
"I think the account is really funny, but if we were ever going to do something like that it would be unacceptable," said a GA student.
This past fall, the GA soccer team handed out jerseys to their Brunswick peers, the same way the boys' soccer team has done for years.
The girls received a mixed reaction from Brunswick. Some Brunswick students respected them for it, while others commented that the soccer team's attempts were "embarrassing."
As for the knight, one Brunswick student reports, "It's just a joke and I think it's funny for both schools. Instagram is just another social networking thing that shouldn't be taken personally or seriously. I don't know how guys would react if the girls did a 'gatorofga' or something like that, though. I don't think it would come across the same way."
The knight currently has more than 150 followers, and gets an average of 40 to 50 likes on each of his posts. The account is gaining attention from GA and Brunswick students alike.
If you are in fact here to stay, Sir Knight, be thoughtful. It's worth asking yourself who is laughing … and at whose expense.