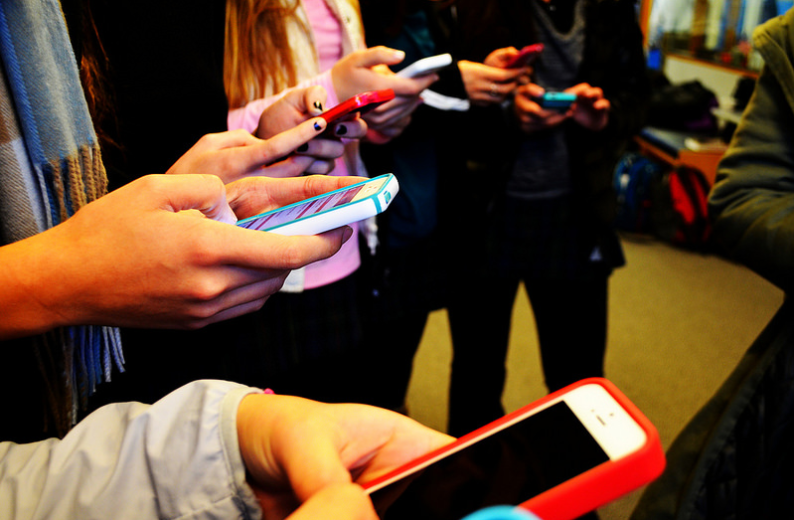 We all know how much technology has advanced in the last ten years, but we really don't consider often enough how much it has affected our daily lives. In research groups across the country, students of varying ages have studied how cellular technology can affect our confidence, relationships, and communication skills.
We have become addicted to having the world at our fingertips. Whether checking our phones every five seconds for a new Instagram notification, or idly scrolling through our Facebook feeds, we have become a culture prone to distraction.
When Apple first launched its most popular gadgets, reviewers wrote praises in awe of the innovative advancements. Average consumers had never seen such intricately designed, yet accessible and user-friendly pieces of equipment.
The Macintoshes, iPods, and iPhones have both successively and successfully changed our society. Thanks to Siri, nobody ever has to leave a dinner table with an unsettled argument about a random fact again.
Once the initial amazement settled and companies continued to introduce newer models, the type of attention cellphones received shifted. What once was awe and excitement transformed into skepticism, and even blame. The bullying moved from the playground to the computer with the advent of this user-friendly, accessible technology.
Texting-related car accidents became the number one cause of death amongst teens.  These are just some of the negative phenomena that everyone – from psychiatrists, teachers, to parents — blames on the widespread use of technology, particularly that of cell phones.
It is such a shame. While I do acknowledge that there are damaging consequences, I can identify many ways in which cell phone use has positively influenced my life.
The other day, I was cleaning my room when I found a 'first generation' iPod. I remember getting that iPod for Christmas in third grade. For months, the only song I had on it was Avril Lavigne's "Breakaway" because I couldn't figure out how to upload more music. I listened to that song on replay until, no exaggeration, May.
I loved music, and I could finally bring it with me anywhere. In the car, my parents were in charge of the radio but I was in control of what song was playing now. (Even though there was only one song on it.)  I would dance around my house with my headphones in, belting "Breakaway."
I had everyone in my family humming that song by the end of that school year. The first song I ever sang on stage at Parkway Elementary School's talent show was, sure enough, "Breakaway." That was the first time I had ever performed on stage, and I immediately fell in love.
I most likely would have fallen in love with music regardless of whether or not iPod and iPhone technology existed, but I do not think I would have endured the same thrill. The point is Apple has given individuals personal relationships with their technology. No one else was listening through my headphones, just me.
Today, I spend hours on my phone. Whether I am posting a picture to Instagram or listening to music, I am carving my relationship with the world from my small device. It brings me joy when people like my photos on Facebook or Instagram, or when I receive links to funny videos because it shows that they are thinking of me.
Some may say that the growth of this cyber world has created impersonal relationships, but I think people are closer than ever. Whenever important news breaks, the channels of social media disseminate the information to all corners of the world at a rate faster than ever before.
I have had three generations of the iPhone. Even though I've changed tremendously from update to update, the first thing I always do when I get my new iPhone is download "Breakaway."
That personal memory I have of my first apple gadget reminds me that the benefits of this new technological and cellular age far outweigh the consequences.