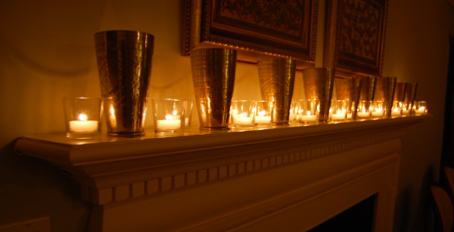 On Sunday, November 3,  millions of people around the world and in the United States lit sparklers and fire crackers at night in celebration of Diwali. Diwali, what some call the "Indian New Year," is actually the first day of the Hindu New Year.
Whereas Americans set out a long list of resolutions for the year and watch the ball drop in Times Square on the first of January, Hindus deck the halls in red, pink, and orange in celebration of what they call the "festival of lights."
"Diwali, as I celebrate it, is not really what you would think of as a typical New Year's celebration. The festival focuses more on its individual meaning as the festival of lights, and the victory of good over evil," said Gayatri Nangia, Group XII, who shared thoughts on her celebration of Diwali with the Greenwich Academy Upper School on Tuesday, November 5.
This "victory of good over evil" in Hinduism is representative of Lord Rama's defeat over the demon king Ravana, she added.
While many have referred to Diwali as the "Indian New Year," Nangia clarified that "Diwali is a Hindu holiday, so if you practice Hinduism you would celebrate Diwali. With that being said, Hinduism is a very inclusive religion, so anyone who feels the joy of Diwali is really encouraged to celebrate."
For this reason, every Diwali, Nangia, with the help of family and friends, has brought Diwali to GA by asking students and teachers to dress in bright colors and to wear the colorful, Indian bracelets passed out during assembly time.
Even on the other side of the world, Nangia says that the celebration of Diwali is quite similar to how she celebrates here in the US. She says, "Although I have never been in India for Diwali, it is celebrated much the same way as I celebrate at home except on an exceptionally larger scale, with prayers, bright clothes, diyas in the whole house, sparklers and fireworks."
As this Diwali is Nangia's last at GA, this year she imparted an important message upon the student body – she asked that the US students dare to "do the things that scare them." Citing sharing Diwali with the Upper School as "intimidating," she remarks how important it is to celebrate one's individuality, no matter how frightening it may seem.
The celebration of bright colors does not stop with Diwali. The GA community can look forward to the official "festival of colour", Holi, on March 17.