For this year's Greenwich Academy fall play, Mr. Brian Borowka has chosen to direct a musical version of the classic novel Little Women.
Mr. Borowka has recently taken over Mrs. Dawn Fuller's position as head of the drama department. For this production, Ms. Erica McCants is in charge of all musical aspects and Ms. Megan Ormond is the costume designer.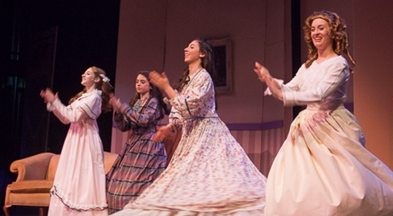 The cast and crew have been hard at work, attending rehearsals Monday through Thursday– each lasting at least two hours. As opening night approaches, Saturday rehearsals will be added in, and weekday rehearsals will be expanded.
Mr. Borowka described the show as having "an inspiring message of empowerment for young women and an exploration of the importance of family, friendship, and compassion." This combination of unique elements makes Little Women family-friendly and appealing to all ages.
Mr. Borowka gives his actors a great deal of freedom while portraying their characters.
"I think it is important to give the actors the opportunity to create their character in a way that does not feel forced or artificial," he said.
"I try to point the actor to different lines or moments in the script that help illuminate the character, but I encourage them to make their own choices during the rehearsal process."
The cast is equally invested in the production.
"My favorite part about performing is the feeling you get right before you go on stage and the feeling you get as you say your last line," said Henry Harris, Group X.
Actress Sarah Gold, Group X, reveals that her favorite aspect of theater is "being able to completely embrace a character and become that person and forget everything going on in my life."
Other cast members spoke of the rewarding feeling they get while evoking emotion from the crowd or making the audience laugh.
But acting is not just fun and games—it is hard work!
"The most challenging part is probably how imperative it is that I leave everything going on in my life completely offstage in order to create a truly pure character," Gold said.
In addition to getting into character and separating that character from the actor's own life, nerves are another obstacle to overcome for many actors.
"Stage nerves," said Kennedy Woods, Group XI. "I can get nervous easily, especially when I look into the audience."
Although theater comes with a healthy dose of challenges, the extensive rehearsals and hard work always pays off. With this cast of gifted actors and actresses, there is no doubt that the performance will be excellent.