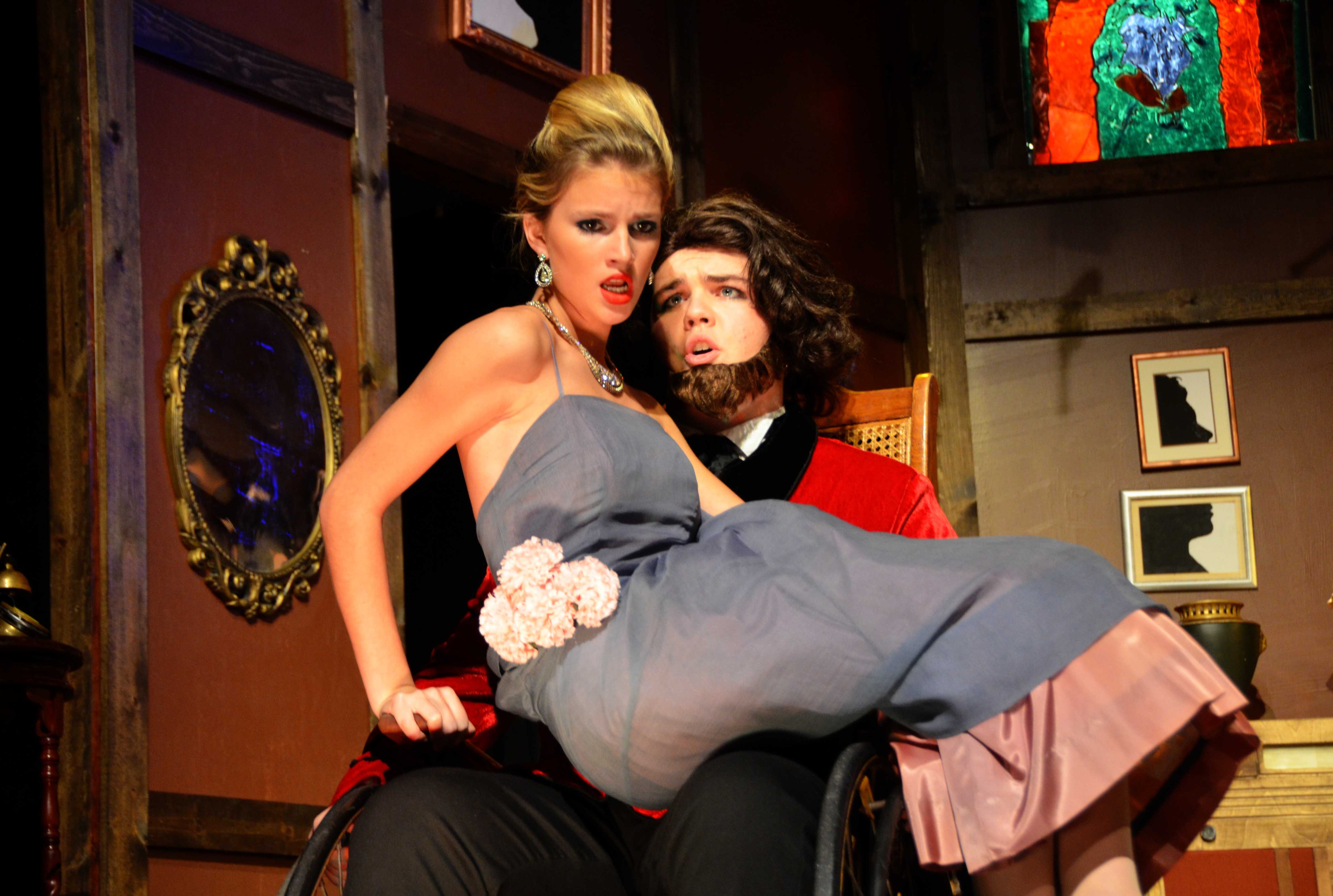 ​
On the weekend of November 1, audience members filed into Brunswick School's Baker Theater to investigate a murder mystery. The school's production of The Real Inspector Hound, written by Tom Stoppard and directed by Brunswick's Mr. Seth Potter, brought the audience into the world of the play.
Set in England in the 1950s, the play follows two theatre critics. One, Birdboot (Kirk Meyer, Group XI), is an infamous womanizer who uses his power as a critic to manipulate young actresses. The other, Moon (Addie Albano, X), is a second-string critic standing in for Higgs, another critic with a superior reputation. Birdboot and Moon watch a seemingly obvious "whodunit" mystery unfold onstage.
In the first act of this play within a play, we watch as a mysterious and seductive stranger, Simon Gascoyne (Eric Mertz, XII) arrives at Muldoon Manor, and falls in love with the beautiful Cynthia Muldoon (Serena Profaci, X), spurning her friend Felicity Cunningham (Alexa LaVersa, XI), and attracting the jealousy of Cynthia's ex-husband's Canadian half-brother, Magnus (Dan Hughes, XII). While at the house, each of the characters vows to kill Simon, and the act eventually concludes with his murder, investigated by the blundering Inspector Hound (Jessie Vissichio, XII and Andrew Israel, X).
The entire plot is repeated in the second act, this time with Birdboot entering the world of the play as Simon Gascoyne and Moon as Inspector Hound. At the end we discover that the Real Inspector Hound is, in fact, Cynthia's husband (Daniel Hues, XII) struggling with bouts of amnesia, disguised as Magnus, played by Moon's stand-in, Puckeridge, eager to murder his comrades in order to become the first-string critic.
Confused yet? I certainly was. The play cleverly interweaves the common thread of murder with confusing identities and mysterious entrances and exits. Couple that with multiple character changes and you have a formula for a very confusing and entertaining piece.
"At first I was kind of like 'what's happening?'" Meyer said, "I didn't really understand it." Laughing, Profaci admitted, "I still don't really get it. It's confusing. The first time we read it, we didn't even finish because we were laughing so hard."
Despite the complicated script, the cast's energy was remarkable.  The play engages the audience with its confusing assignments of characters and of plot.
The complicated script also afforded various actors to out-do themselves on stage. Profaci was breath-taking in her high-energy performance, and Jordan Smith, X, was hysterical as the crotchety housekeeper, Mrs. Drudge. Other actors were stretched in their performances by creating interesting personalities and accents, as did Meyer.
The play's success can be attributed to Mr. Potter's approach to character development. The actors were free to make their own interpretations.
"He kind of just let us make our own discoveries. Do whatever we wanted to do by ourselves," said Meyer.
Potter's coaching style and vision helped to guide not only the actors, but also the set itself. Most intriguing were the silhouettes hung on the dark walls of Muldoon Manor.
"It started they wanted to put up my silhouette because I'm suppose to be Albert at the end, but my silhouette was too obvious, so they decided to put everyone's silhouette to make it sort of ambiguous as to who it was," said Hughes.
As an audience member watching Birdboot and Moon become part of the murder mystery, it was hard not to feel a little anxious. Anything is possible in a plot as twisted as this one, and it was easy to imagine the person seated next to you hopping onstage as the next Simon Gascoyne … or someone calling you out as the next suspect.
Under Potter's guidance, the talented cast pulled off a difficult script with ease, captivating the audience and drawing them into the world of the play.