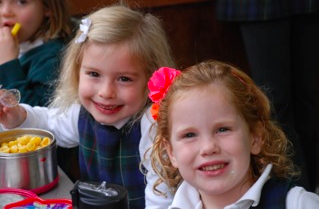 This year, the Community Service Board, under the leadership of the President of Community Service, Harper Robinson, Group XII, initiated Lunch Bunch, a new program in which students sign up during a free to help PC and CC girls at lunch.
Although at first it seemed daunting to ask busy high school students to give up the opportunity to get a head start on the night's homework, many from each grade have jumped at the opportunity.
The Community Service Board "got an especially outstanding response from the senior class with over twenty girls signed up," enthused Robinson. In total almost fifty upper school students have signed up.
Many girls eagerly await the time when their free falls during Lunch Bunch. The program has initiated contact between younger and older girls and provided an enjoyable and rewarding break during the demanding day of a GA high school girl, bringing a sweet sense of nostalgia for girls who remember their own days in the younger grades.
"Lunch Bunch is a really fun and easy way to do community service at school," said Olivia Bastianich, one of the community service representatives of Group X.
"It felt so great to be able to help the community without having to venture outside of GA," said Olivia Winn, Group X.
These aspects of fun and convenience help incorporate community service and the general idea of helping others into our busy lives.
For girls who would like to sign up, the times and free blocks available are listed in the Student Center on the whiteboard for community service activities.