GA's Fall Feats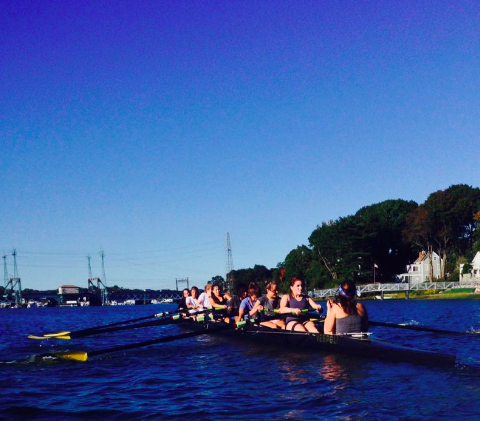 After one to two grueling weeks of preseason, depending on the sport, and practices five days a week (or more), Greenwich Academy's fall sports teams have already kicked into high gear.
Currently, Varsity Volleyball has had five games and remains undefeated. The team has played Holy Child, Hopkins, Masters, King, and Hotchkiss. The biggest accomplishment of the season thus far is that for the first time in GA Volleyball history, the team beat Hotchkiss 3-2.
"The season has been going really well. We are a very young team but we have really come together and love being with each other both on and off the court. We have some big games coming up but our team has really been working hard and I'm so excited for the rest of the season," said captain Tyla Taylor, Group XII.
Their next game is on Saturday October 12 at 1:00 P.M. at GA, where the team will face Miss Porter's.
The Varsity Field Hockey team also remains undefeated. So far they have beaten St. Luke's, Choate, Berkshire, and Hopkins. However, according to one of the three field hockey captains, Annie Leonard, XII, they are going to have some tough games coming up.
They face Loomis Chaffee on October 23, Hotchkiss, their biggest rival, on October 26, and Westminster on November 9. When addressing the team's season thus far, Leonard notes that, "We haven't seen the hardest part of the season yet, so I'm not entirely sure of what the team is capable of, but I do see a ton of potential. It's what we do with the potential that will us have success in the later games."
With a young offensive line, Leonard hopes that improvements on skills such as ball handling, hitting, and passing will not only strengthen the offensive line, but will strengthen the team as a whole.
Cross-country has also had an amazing season to date, with a record of 9 wins and 1 loss. They have raced against Hopkins (their biggest rival), the Convent of the Sacred Heart, Rye Country Day School, King, Greens Farms Academy, Saint Luke's, Holy Child, and Masters. "Considering the number of seniors we lost, our team is doing very well. We have a lot of crucial meets coming up, so it's up to us to see if we can really push through to win the league!" said captain Michelle Basta, XII.
Their next meet is on October 12 at the Kent School, where they will race Kent and Westminster. On October 23, they will race Sacred Heart, Greens Farms Academy, Masters, and Hopkins on their home turf at Tod's Point.
The soccer team has also been off to a great start, with two wins, two ties, and two losses. The team beat both Sacred Heart and Miss Porters, tied Holy Child and Hamden Hall, and lost to Saint Luke's and Choate.
"We came into this season stronger than we ever have. Although we haven't had all the outcomes we were hoping for, we've come into each game with plenty of heart, passion, effort, and skill … now we just need to focus on the games coming up and keep working hard so that we can start getting the results we've been working for," said Isa Dumoulin, XII, one of the three captains.
Even though it seems difficult to try to create room in the hectic schedules all GA girls have, each of these teams would really appreciate if the GA community would make an effort to attend more sporting events. The energy that fans bring to games helps boost the various teams' morale, even when facing their stiffest competitors. To find a detailed schedule of all of the home and away games for this fall season, go to the GA website and search for the schedule under the Athletics column.