R. J. Palacio Brings Wonder to GA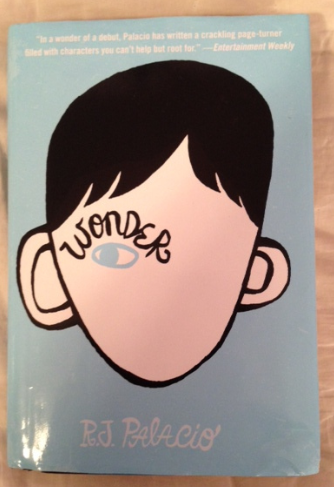 The first person who mentioned author R.J. Palacio's novel Wonder to me was my mother. After reading the letter from Head of School Mrs. Molly King that described how this poignant Middle School summer reading book had inspired her to make the theme of the 2013-2014 academic year "wonder," my mother encouraged me to read the book.
Wonder, The New York Times' current #1 bestseller, recounts the journey of August Pullman, the ten-year-old protagonist who has a craniofacial disorder, through his first year of middle school. The private middle school in which his parents enroll him is the first school he has ever attended, since August's mother has homeschooled him up until this point.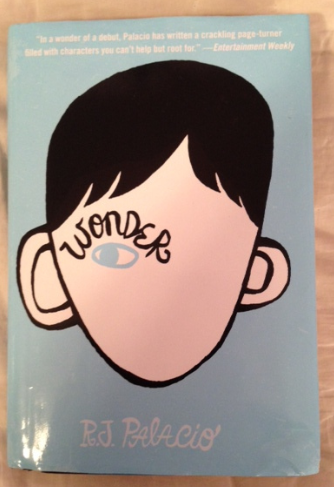 In this book, one sees August's journey from his perspective and the perspectives of five other characters who play a key role in the life of the Pullman family. This 310-page book is hard to put down, and the ending has made many members of the Greenwich Academy community cry.
At first, I did not take my mother's suggestion to read Wonder too seriously because all I could think about was the imminent school year and the demands of senior year. Luckily, my English teacher, Mr. Tom Sullivan, Head of the Upper School, decided that Wonder would be the first book his class would read.
From the moment I saw the design on the front cover and the ingenious slogan on the back side ("don't judge a boy by his face" instead of "don't judge a book by its cover"), I knew that I would immediately fall in love with this book.
And I did. I admit that the large font and short chapters did make the book easier to read, but it was the content that really kept me enthralled. I instantly became attached to August and admired his candor, perceptiveness, and sense of humor. I could not help but want to cry when he called himself "ugly" and tried to change parts of his unique identity (such as cutting off a braided piece of hair that represented his obsession with Star Wars) due to peer pressure.
The character that I felt I could relate to the most was Olivia, August's older sister. Since I have a younger brother with special needs, I have had some of the same experiences and emotions as August's fourteen-year-old sister. Like Olivia, I was overprotective of my brother, Mark, because I was afraid that peers who might not understand his behaviors would bully him. Also, I used to feel resentment towards my parents because they gave much more attention to Mark than they did to me. Finally, I occasionally wanted to pretend that Mark did not exist so that I would not have to worry about peers judging me based on his behavior.
I believe that Palacio's greatest strength in Wonder is her ability to put so much power into such short chapters and sentences. Sometimes August's simplest observations or Olivia's bluntest statements about how neglected she feels provide a deeper view into their characters' personality than simple facts about their appearances.
With her knack for teenage lingo, Palacio is able to bring Olivia's boyfriend Justin to life just by misspelling certain words and using lower case letters. In one particular chapter, Palacio compiles email correspondence between the Middle School Principal, Mr. Tushman, and the mother of Julian, one of the biggest bullies at August's school. Through these emails, it is obvious that Julian's ignorance and tendency to cruelty come from his mother.
The characters, plot, and style of Wonder are only a few of the various aspects that made me fall in love with this book. Although I think that the ending of the story seems slightly unrealistic, I believe that it is appropriate, considering the target audience of the book: middle school students.
At a time when friendships may be experiencing difficulty, I believe that Palacio's message to always go the extra mile to make someone feel special is particularly meaningful. Her message of kindness is also one that extends beyond the middle school environment and has value in a world in which it easy to become self-absorbed.
If you are interested in reading Wonder, which I highly recommend, you can order a copy of the book online or through the GA bookstore or library.