A Conversation with Madame Kranz: The Life of a Dancer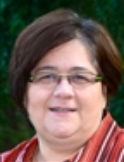 Many know Ms. Sylvia Kranz as Madame Kranz, a French teacher in the language department here at Greenwich Academy. What many of the GA community might not know about M'me Kranz is that she was once a professional performer. Before she graduated from the University of Nevada Las Vegas and began her teaching career as a lecturer at the University of Tulsa, Kranz performed on stage and on the movie screen, as both a dancer and an actress.
Sam: Tell me about your dancing career.
Kranz: I was very fortunate that I grew up in a town outside of Paris called Colon, which has a community center, and one of the directors in the early 70's was a theater director.
One of the teachers [the director] brought was named Matt Mattox…He was a fantastic dancer and choreographer and teacher. He used to fly from London on the weekends and teach at the community center, and then eventually he moved there. So in my little working-class town I was able to take class with Matt, this great teacher.
When I first decided to take dance class, I was sixteen. And I took a class from Matt– it was a gigantic class in the double gymnasium. And he asked me to stay after class, and I thought he was gonna tell me, because I was chubby, "You know, you're too chubby to take the class," but in the opposite he said, "We need people like you in dancing."
He also had a school in Paris, and then he came to my town almost every night, and he allowed me to take a musical comedy and dance class, and I started to take dance classes at his school for free; he gave me a scholarship.
After school, I would go to Paris and go to the [dance] school.
Sam: What brought you to America?
Kranz: I was working in [Matt's] dance center in Paris when I was 18. One time this man came in during a Can-Can class on a day I had never worked a shift before. He kept looking at me because he had never seen me. He asked the guy who was working the juice bar if I danced. He came to me and asked me if I wanted to go to America. I said, "Yeah!." He said to me, "By the way, if you can put one foot in front of the other, you'll be hired." So I auditioned for him; he asked me what I could do, so I did a jump split and he said, "Okay you've got the job!," and that's how I got a contract to go to Las Vegas.
I could have stayed [in France]- I had already gotten my first part in a movie. It was a little role in great movie. When I left, I had a lot of stuff going on, but I wanted to go to America and I knew that in the show we had unbelievable dancers from New York who had been on Broadway. They were fantastic and I learned so much from them. I also did shows in Lake Tahoe, where I was also fortunate to work with some incredible people. My choreographer was a New Yorker, which was very tough for me because she had a very thick accent.
Sam: So you lived in Las Vegas for a long time?
Kranz: I lived in Las Vegas for ten years, and I did theater also. I went back to school. I went to UNLV. I went to University of Arizona, and I taught as a lecturer at the University of Tulsa, and then I decided to move to the east because that is where I always wanted to live.
It was just about taking the opportunity. I was in my first year of college in France… My parents were not happy, because I stopped going to school for [Dancing]. I somehow knew I would always go back to school.
 Sam: So what brought you to Greenwich Academy?
Kranz: I got this job kind of by accident. I asked if the school needed a French teacher, and it happened that someone had just told the school that she was retiring.
So she took me back to Madame Riverain because someone had cancelled, and we talked and Mr Schwartz was there too. A few weeks later they gave me the job.
In that community center, they organized, three times a year, dance workshops with choreographers from all over the world. Twyla Tharp was very special because she did modern dance and her dancers were short, tall, fat, small, and every race, and one of the things she did that people know is that she choreographed the movie "Hair", and in that movie, one of the dancers is Frances Hunters.
Twlya Tharp came to my town, and I saw the show. I have to say that as a nontraditional looking dancer, I was so encouraged by seeing people who looked more like me, and I said, maybe Matt is right, maybe I can do this!" Little did I know that when I came to GA, the head of the dance department was Francis Hunter, and I remembered her from the show! What a coincidence. I knew I was in the right place!