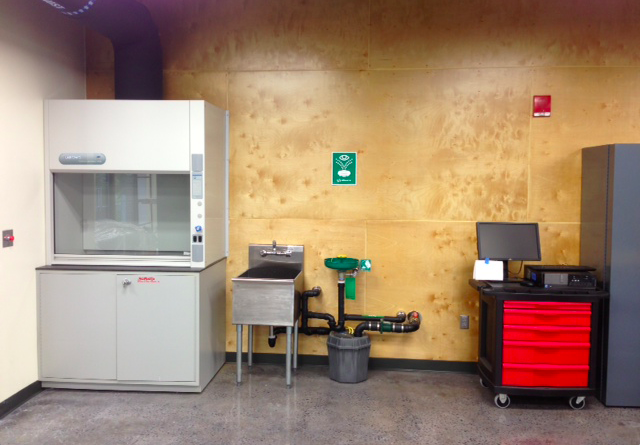 One and a half years after Mrs. Ann Decker, Director of the Duff Center for STEM initiatives, proposed the idea of building a fabrication lab at Greenwich Academy, the room of machines located in Young Auditorium is almost complete.
The fabrication lab, which Mrs. Decker lovingly calls the "fab lab," is another demonstration of GA's commitment to making STEM related fields accessible to students.
Mrs. Decker said that the lab will expose students of all levels to 3D design and engineering, fields that are becoming increasingly vital in our tech-driven economy. The primary objective of the fab lab is to "take an idea from the 2D world … and bring it to the 3D world," Mrs. Decker said.
Any student can bring her idea to life by using CAD (Computer Aided Design) software to design objects as simple as an iPhone case to as complex as the Eiffel Tower. Programs such as TinkerCAD and 123D Design are easy for anyone to learn to use, according to Yuge Ji, a member of Group XII and captain of the Upper School Robotics team.
Although the lab is most immediately relevant to those interested in STEM related fields, Mrs. Decker emphasized that she wants all departments to use the space.
She added that one of her key supporters for the initiative to build the fabrication lab was Art Department Chair Mrs. Erin Riley.
Art and science do tend to merge a lot, as the new acronym STEAM (Science Technology Engineering Art, and Math) suggests, and Mrs. Decker hopes that in the future, students interested in architecture will be able to use the printers to make scale models of what they have designed on paper in the classroom.
Equipped with two 3D printers, a laser cutter, a vinyl cutter, a CNC (Computer Numerical Control) router, a milling machine, a wide-format printer, and many other electronic devices, the fab lab fits the needs of all students.
"A 3D printer is just like a normal printer, except instead of ink, it uses plastic, and instead of Word documents, it needs STL files," Ji explained. The milling machine, she added, has a similar purpose to the 3D printer, but it cuts away from various materials instead of extruding plastic.
The advantage of using this machine is that it can create objects not only made of plastic but also made of wood, metal, or any other material that is available. The laser cutter is like a milling machine, but it is more precise and can cut through more materials than the milling machine can. The equipment in the lab may seem extremely complex and foreign, but anyone can learn to use it.
Mrs. Decker has invited all GA faculty members who are interested to partake in a professional development day in the lab on Friday, September 13. She hopes that teachers from all disciplines will familiarize themselves with the machines and think about how they might integrate lab work into their curriculum.
While many students will be given the opportunity to work in the fabrication lab, the students who will use it most are those on the Upper School Robotics team.
Led by Mr. Doug Rendell and Mrs. Gail Sestito, the team has used Mrs. Tracy Kaufmann Argo's classroom as its workspace in the past. Now, they will be able to call the fabrication lab their new home.
"It's easier [being in the fabrication lab] because we won't need to put everything away everyday," Ji said of the new hub for the robotics team. "More tools are handy and the resources available will only enhance the quality of the future robots we build."
As you walk by the cafeteria or the middle school, make sure to glance into Young to check out the newest and most high-tech space on campus.