Captain's Choice: Volleyball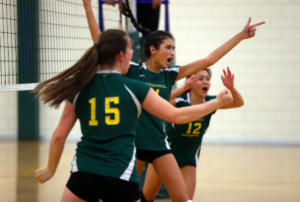 Recently, Greenwich Academy athletics created a new tradition called "Captain's' Choice." Athletic Board President, Phoebe Morris, Group XII, introduced the Captain's Choice initiative this year with the goal of increasing school spirit at GA sports games. She hopes that offering captains an opportunity to highlight their most exciting match of the season will enable maximum school support.
This September, I attended Varsity Volleyball's Captain's Choice game against School of the Holy Child. The crowd was extremely involved and emotionally invested in the volleyball players' serves and spikes. The love on the court and sidelines was palpable. At the end of every serve, the girls formed a huddle: they patted each other on the back and exchanged encouragements.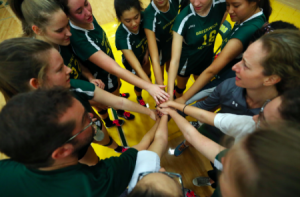 GA finished the match victorious with a score of 3-1. Morris, one of the volleyball captains, said, "The Holy Child game was one of the most exciting games I've ever played in. I have never experienced such energy and noise and excitement on the court before. It was the best last-first game of high school volleyball I could have asked for. A highlight of the season for sure. We fed off of the crowd's energy. We could not have won the game without their help!" So far, Captain's Choice proves to be successful and especially helpful for GA athletes during difficult games.