"GA: Art in Process," the latest exhibit to appear in the Luchsinger Gallery and Jacobs Lobby, challenges how we view the final product of art. It is not often that unfinished pieces of art are displayed on a gallery's walls … or performed in its hallways, for that matter.
This exhibit highlights all the different stages and revisions behind a finished piece by showing art of many types of media in various stages of progress. The exhibit will run from January 27 – February 17.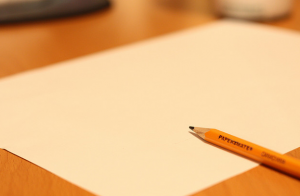 In her first year directing the Luchsinger gallery, Ms. Kristen Erickson decided to leave space in the exhibit schedule for a show that could be a less traditional, more interactive and experimental experience.
As Ms. Erickson explained, we often enjoy the clean and polished product of art, for example in the End of Year art show or in Winterfest, yet we don't always have the opportunity to appreciate all the work that went into it. "GA: Art in Process" reflects Ms. Erickson's belief that "creativity is all around us all the time."
In the gallery, this creativity is on display through many different mediums. There is a site-specific collection of drawings and photographs by Camila O'Brien, XII.  Drafts of stories and poems by Daedalus writers responding to workshop prompts line one section of the lobby. Viewers can use Middle School Tinker Club's "scribblebots" to create their own designs. The iPhone videos of film students play on iPads.
One exciting part of the show is the display of "The Kiskadee," Bermuda's first literary and art journal, conceived, designed, and edited by Lulu Hedstrom, XII.
Hedstrom assembled and edited this collection of art and writing by Bermudian artists as an independent study project.
"I wanted to share the process of what I learned along the way putting together 'The Kiskadee' so that people can see the jouney I went on," Hedstrom said.
For her, this magazine became much more than what you can see from the final product.
"It was a huge cultural education about life in Bermuda.  I thought I knew Bermudian life, but my eyes were opened to a whole other side, a literary culture," she said.
In the gallery, all steps of Lulu's process are represented, from the poster she displayed in Bermuda to encourage submissions to the final magazine.
"GA: Art in Process" has also featured live performances. Group IV dancers moved around the gallery as statues, reacting to different artworks.
And on February 11 and 12, Dance Corps performed around rather than in Massey Theater.
"We broke into smaller groups with simple choreography and then came together and applied other groups' choreography to make a longer sequence," said Darren Drittel, XI, by way of explaining their process.   
Both these dances conveyed the progressive and creative process of building a work of art.
Mr. Jon Coffin and Ms. Becca Hamm-Conrad, who attended the performance, remarked that it was interesting to "experience the space around Massey Theater in a different way." Ms. Hamm-Conrad was struck by the "kaleidescope effect" the dancers achieved by inviting viewers to observe their piece from different angles.
In addition, Daedalus editors organized a coffee house in the gallery during lunch block on February riters shared pieces they were currently working on.
"It was fun to get a preview of what might end up in Daedalus and great how many people chose to share" said Ellie Garland, XI.
"…we didn't have time to hear from everyone," added Mr. Jeff Schwartz. "It was the most well-attended Coffee House Daedalus has ever done." And exciting for students to have a "professional space at school."
Artists from all divisions joyfully met Ms. Erickson's goal of opening "a window on the process of creating art," making the exhibit an enormous success for artists and viewers.