Without question, two of the most popular and utilized machines at Brunswick School and Greenwich Academy are the campus vending machines. Both offer a wide variety of packaged food and drinks, and are located in nooks frequently passed by hungry students.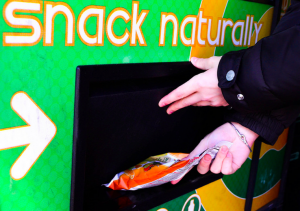 Lexi Milunovich, Group XI, often asks herself, "Why should I pay $1.00 for Cheese-its at GA, when they only cost $0.75 at Wick?" Students struggle with questions like this everyday, so GAP thought we would help you decide where to spend your spare change.
Price: It is clear to see that Brunswick's prices win – no product costs more than $1.00, and drinks are $1.25. In contrast, the prices of GA's selections range from $1.00 to $2.00 (with the occasional $2.50 wild card). So if you want the most bang for your buck, find a buddy and take a trip to Maher Avenue. Regardless of Wick's lower prices, Matt Marvin, XII, says that the vending machines are, "Dope and make bank."
Nutrition: While Wick defeats us in price, GA dominates the health market, with offers such as Luna bars, Veggie Sticks, Apple Crisps, and Gatorade.
"It's perfect if I miss breakfast and need some energy before class," said Annie Klein, XI. Although one may argue that Welch's Fruit snacks are indeed fruit, Wick does not provide healthier snacks.
Monetary Transactions: Another one to the Gators! Wick's fussy and occasionally frustrating money slots fall short. GA's machines accept $5 and $1 bills, coins (including dollar-coins, nickels, dimes), and credit cards: many more choices than Wick's machines.
Satisfaction: Although GA's machines do offer a small selection of baked goods, Brunswick is the place to be if you want a fix for your lingering sweet tooth. Stocked with Sour Patch Kids, Pop Tarts, and Skittles, Wick's vending machines are a sure way to get a cavity.
Accessibility: Ladies and gents, we've got a tie. Due to the new location of the Wick vending machines (outside under the history hallway), neither campus can really claim victory on this category.
"I guess it's really foolish and deplorable that they're outside. Seems like a better idea that they would be inside, as everything is now frozen," said Johnny Rose, XI, of the new site.
No matter the differences, Wick and GA vending machines are a constant, reliable component of both campuses.
"I get the same thing every time and it makes my day," said Caroline Sorenson, XI.  Then again, some people, like Chris Gendell, XI, "don't use them a lot."
Whether you want to fulfill your New Year's Resolution of eating healthy or you want to stress eat before an exam, there will always be a vending machine that can satisfy your cravings. So bundle up, brave the path, and seek the perfect winter snack.