Gerald Inspires Entrepreneurship Among GA Girls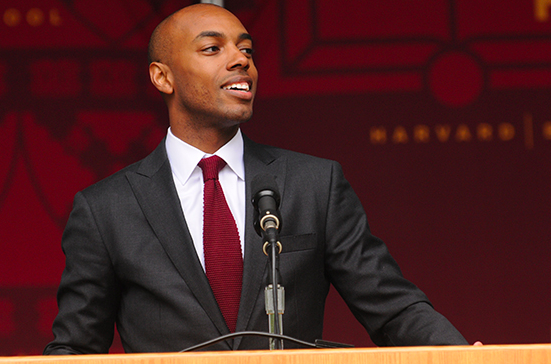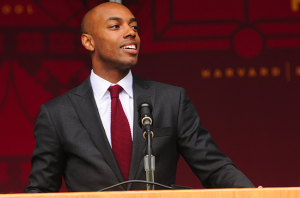 Was it his charm or warm southern accent that captivated the audience? Whatever the case may be, there's no doubt that Casey Gerald was one of the most dynamic speakers we've had this school year. He took command of the stage, choosing to come from behind the stagnant podium and engage with the GA Upper School.
Mr. Gerald spoke about a new two-worded term: social entrepreneurship. Some people may be unaware that this form of entrepreneurship exists, but the actual definition should resonate once you hear that it is the process of pursuing innovative solutions to social problems. It sounds simple enough, right? Can't anyone just use a little ingenuity to benefit the greater good?
There is not an easy answer to this question, so let's take a step back.
In his 2014 Harvard Business School speech, Mr. Gerald said: "If you wanted to change the world in the 20th century you had to go law school, but in the 21st century, if you want to change the world you have to go to business school."
In the literal sense, the quote advocates for a business school education. But it also suggests that business, more specifically social entrepreneurship, is this century's key to success.
I find myself nodding in agreement to this statement when I picture my own entrepreneurship class. Every day, one student is responsible for going up to the front of the classroom and presenting a SAD (stand and deliver). A SAD entails this: finding the website for a startup (a new company) and describing what it is that company does and whether there is any potential.
Before taking the class, I was a novice to the world of business. I never took an interest in nascent companies, but now I'm aware that startups are emerging from everywhere and at a rapid rate. Innovation, I must say, is in.
It feels like Gerald's statement had a touch of clairvoyance; you really can change the world with entrepreneurship.
There is one small caveat I must mention. If you can recall those hazy school days before Casey Gerald came to visit, you may remember that we had another charismatic social entrepreneur come to speak. Her name was Lauren Bush, founder of FEED, a non-profit organization that sells bags and accessories, and then donates part of the cost to fighting world hunger.
Lauren Bush, with a vehement conviction that generated spectacular applause, asserted that if you want to speak on any topic like an expert, the first thing you must do is acquire knowledge on that subject. Once you become an expert, no one can tell you anything or laugh at you. Instead, you'll gain respect.
So we return to the original question: Can anyone just use a little ingenuity to benefit the greater good of a community? Of course, ingenuity is important. But becoming an entrepreneur in a field in which you are an expert in is an added bonus to any goal. I'm not suggesting everyone become social entrepreneurs right now, but consider this: a social entrepreneur is simply a person invested in making significant difference. So how about it? Are you ready to change the world?