GA Gets Political in the Wake of Himes' VIsit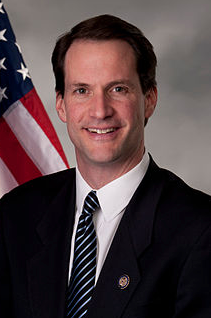 On Monday October 27, Congressman Jim Himes visited GA to talk about his election campaign. His visit brought many pressing questions to the forefront of students' minds. Among them: is school the right place to discuss politics?
Students wondered whether Himes' visit was a political maneuver. After all, a large portion of the senior class is eligible to vote. And Himes' visit occurred a mere week before Election Day.
Some students skipped his assembly, preferring to "meet with a teacher" or just "opt out entirely." They read his visit as an unnecessary and unwelcome political message from the school.
But Ms. Connie Blunden, Director of Global Initiatives, points out that Himes' visit was initiated by GAPA, not the school. And he was speaking not as a candidate but as our sitting representative. His goal was to educate students about the election process, not tell them who to vote for.
"Being exposed to any politician is an encouragement in the process. Any exposure is good exposure," Ms. Blunden said, responding to concerns that politics and politicians have no place in school life.
"It is necessary for everyone to be caught up on politics and know what's going on in the local elections," a student added.
Early this school year, GA also welcomed alumni and democrat Caroline Simmons to campus. She spoke about her campaign for State Representative.
The combination of both Caroline Simmons' visit and Jim Himes' visit made some students question the school's role in their political beliefs, especially since both speakers are representatives of the Democratic Party.
But like Himes' visit, Simmons' was not initiated by the administration. Simmons came because Kyla Hodges, Group XI, was already working on her campaign.
Plus, Simmons has a long and well-established history with with GA.
"I am very supportive of GA's support of Caroline Simmons. I think she serves as a positive role model for young women to become active in politics. I admire the courage she demonstrated in running, and also celebrate the fact that she won!" said school president Jubilee Johnson, XII.
"Caroline is in the pantheon of all-time great GA presidents. She was vibrant, really smart, and truly special in how much she cared about everyone at the school," said Upper School Head Mr. Tom Sullivan.
"I'm glad she had time to come back this fall and meet with the Democrats Club, even during peak campaign season," he added.
"When she visited last spring and said a few words about her campaign, it wasn't long before some Upper Schoolers were volunteering – and hats off to them."
Certainly if a student wished to get involved in a republican campaign, the school would be equally as supportive. Ms. Blunden, for one, is happy to help.
"For me, personally, whenever I talk to students about campaign opportunities I always suggest that they do their research on the candidate and pursue it if they feel that they are comfortable with the candidate," she said.