The Phenomenon of Food Instagrams
Over the past half decade our generation has seen an upsurge in social media photo sharing. My faceboook news feed is studded with smiling group pictures and hilarious selfies, and every T
hursday, my instagram is filled with #tbts of summertime.
In addition to the continuous stream of candids, the social media world has taken food and cuisine to a whole new level. It is no coincidence that I alone follow no less than three food accounts on instagram; and they are #awesome. It is amazing to see mouth watering food from around the world at the touch of your fingertips.
These food accounts have given me ideas regarding both original dishes to cook at home and new restaurants to try both locally and abroad. Simply admiring these beautiful food pictures on my feed makes me #happy!
The Greenwich Academy community is no stranger to this photographical storm. GA girls have created at least two successful fo
od instagrams: @feedyoursoull and @foodloverheaven1.
The first account was created by senior Allie Keigher and her friends; and it now has over fifteen thousand followers. Foodloverheaven was created by Juliann Whitman, Olivia Bastianich, Allegra Milani, Kate Defrino, Georgina Hickey, Adele Whitmeyer, Megan Bugniazet, Alexis Raskin, and Liza Daniels.
"The 8 of us started it last November because we loved baking and taking pictures of our food and we would always submit them to famous food accounts. But it's really hard to get noticed so we decided to make our own. We ask people to submit their pictures to us because we love reposting other peoples' pictures! This account is important to us because it has brought us so much closer together" said Olivia Bastianich, Group XI.
Their decision to create a personal account is really paying off: @foodloverheaven1 is now nearing ten thousand followers!
Through these social media networks, famous restaurants and cafes have gained great recognition. Many restaurants, like Sushi Samba, have started their own instagram accounts (@sushisamba) to publicize their tasty creations.
In addition, smaller cafes, like Holey Cream, have gotten immense exposure with their colorful and delicious donut-ice-cream sandwiches. Famous photo accounts have not only increased press for restaurants, but also for many upcoming photographers.
The "instagram food world" has created a community for both professional photographers, taking stunning pictures of their meals, and for aspiring photographers like all of us here at GA.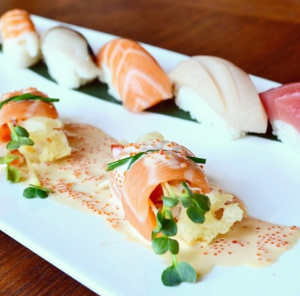 So, don't be shy! Get out there and be a part of this photographical phenomenon! As the foodloverheaven crew says, "eating is a necessity but taking pictures of food is an art."