Whether or not you were eligible to vote in this year's midterm elections, it is still important to know who was elected to office this November 4. While it was not an election year for Connecticut senators, it was still a big year for natio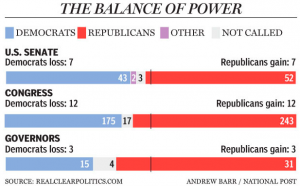 nal elections.
Senate elections were held in fifteen states including Alaska, Arkansas, Colorado, Georgia, Iowa, Kansas, Kentucky, Louisiana, Michigan, Minnesota, New Hampshire, North Carolina, Oregon, South Dakota, and Virginia.
The Republican Party, also known as the GOP, took control of the Senate, now holding fifty-two seats. The Democrats, who held majority before this election have forty-four seats and the Independents have two.
The other big election that took place on November 4 was for all 435 seats in the House of Representatives. In this election, Connecticut largely voted in Democrats. All seats stayed blue, with the five districts all re-electing their incumbents.
This means that Fairfield County, the state's fourth district, re-elected Jim Himes, who came to speak here at Greenwich Academy a few weeks ago.
However, Connecticut's results do not reflect those of the rest of the country. The GOP took majority in the House of Representatives, now enjoying 234 House seats versus the Democrats' 201. This is the first time in eight years the Republicans have had control of both the Senate and the House. What does this mean? It means that the GOP will have more control in deciding the nation's political agenda in the coming years.
Another election that gained a lot of national attention was the gubernatorial race in Texas. The two main candidates were Republican Greg Abbott and Democrat Wendy Davis. Abbott won the race by a margin of 20.35%.
If you're wondering where you know one of those names from, Wendy Davis is a State Senator from Texas, who announced her candidacy for Governor on October 3, 2013. Davis is also known for her eleven hour-long filibuster on June 25, 2013 to block the passage of Texas Senate Bill five.
The bill was created on June 11th, 2013 and "would ban abortions after 20 weeks of pregnancy, require abortion clinics to meet the same standards that hospital-style surgical centers do, and mandate that a doctor who performs abortions have admitting privileges at a nearby hospital."
Though the bill was later passed by then-governor Rick Perry on a different platform, Davis gained national recognition and support for her efforts.
While the elections for the Congress gained a lot of attention, the most talked-about election locally was the race for Governor, between the Democratic incumbent Dan Malloy and the Republican challenger Tom Foley.
The race was highly contested and ended up being very close. Malloy remains Connecticut's governor but only took the election by a margin of 2.46%. In other election news, Greenwich Academy's own alum Caroline Simmons was elected a State Representative of Stamford, the 144th district.