Hast Thou Seen Midsummer?
I was laughing so hard my chest hurt. Towards the end of Brunswick's production of A Midsummer Night's Dream, one of Shakespeare's better-known comedies, Jared Wolfson, Group IX, was running around in a blonde wig looking for his (or her?) love Pyramis while George Delana, XII, stood dressed as a brick wall in a pair of boxer shorts.
Naturally, the audience erupted into laughter. This image accurately describes the entirety of the play: a fun and well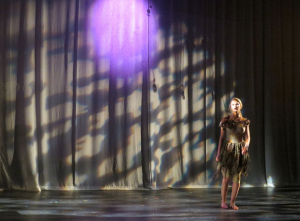 -cast hour and a half. Looks like I'll have to set aside my snarky comments and excessively praise this production. Yawn.
Quick synopsis: Titania and Oberon are the Fairy King and Queen who are mad at one another because Titania will not give Oberon a "changeling" boy. What a changeling is, we have yet to find out (or were we supposed to know all along?).
Hermia is in love with Lysander, Lysander is in love with Hermia, Helena is in love with Demetrius, and Demetrius is in love with Hermia. So basically no one loves Helena, and, well, that really sucks. Puck, a Fairy attendant of Oberon, creates mischief amongst the lovers, but also (sideplot!) messes with the Rude Mechanicals, a group of six labourers who steal the show in the end. Got all that? Good.
The cast, first and foremost, was spot on. Mr. Seth Potter obviously took a risk in casting Puck, played by Serena Profaci, XI, as a female, but I would contend that the casting choice enhanced rather than downgraded the material. Profaci portrayed Puck as a mischievous and eager accomplice to Oberon and added humor and vivaciousness to the role.
I'd also like to highlight the band of actors, the Rude Mechanicals, who were the reason for my aforesaid fit of laughter. The Mechanicals acted as comical and welcome distractions from the dramatics of the four lovers. "We all have a goofy side like the Mechanicals," said Alexa Laversa, XII.
"I think audiences really connect with the characters because we all have been them at some point. Everyone has been like Helena or Hermia, and been rejected or experienced heartbreak, and fallen in love."
The sets and costumes were also wonderful, creating an incandescent woodland atmosphere that was both eerie and inviting. The constantly changing sets made the play interesting to watch and the costuming also added to an intriguing "wait, what time period are they in?" mentality. From suits and white nightgowns to fairy woodland creature leotards, the attire certainly didn't hail directly from Ancient Athens, where the story is set.
The show itself drew the audience in.
"There's a lot of breaking the fourth wall and interacting with the audience," added Olivia Winn, XI, who played Helena.
"The play is absolutely insane with all the storylines and to play with how they intersect is something exciting for both the actors and the audience as well. Mr. [Seth]Potter took it to another level and it was definitely one of my favorite shows I have ever been apart of."
I can honestly say that I walked out of Baker Theater with a positive review already forming in my brain. Midsummer was that good. The play ultimately ends in happiness, not heartbreak. Demetrius and Helena, Oberon and Titania, and Hermia and Lysandar all end up snug in eachothers arms by curtain call. However, can I just point out a couple things? Come on, this review can't be all good. One: I'm pretty sure every character was rolled or pushed down the ramp (set in front of the stage) at some point. Are they hurt? Seriously, how are none of the actors bruised? Two: Why is everyone so happy that Demetrius is under the spell of a magic flower? He's not actually in love with Helena at the end of the play, yet everyone acts like it's all fine and dandy. How come no one notices this?
Despite my questions, I'm looking forward to seeing upcoming productions. Hopefully there will be more Shakespearean drama (or comedy) so we can sit and watch our peers portray manic murderers and dramatic solillaquists. That's what I call a good time.