GA Alum Caroline Simmons Ascends in Politics
Caroline Simmons is a Greenwich Academy alumna. She is currently running for State Representative of Stamford, Connecticut's 144th District. This past summer, I volunteered on Simmons' campaign. When I met her, her blonde hair and green eyes were the first things that struck me.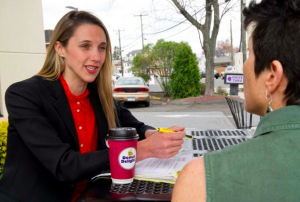 During our conversation, I realized that she also has a very attractive personality. She has all the qualities of a successful politician: charm, awareness of local issues, and an ability to connect with absolutely anyone.
Before encountering Simmons, I never knew someone so comfortable immediately starting up conversations with strangers. Simmons' immensely personable and hard working nature made me proud to work on her campaign.
In addition, Simmons has impressive credentials. After graduating from Harvard, where she led many grassroots student movements, Caroline went on to work for Barack Obama's 2008 presidential campaign on the New Media team.
She then worked at the US State Department for four and a half years while earning her masters in Middle East studies at George Washington University.
Recently, I interviewed Simmons about what inspired her to become a politician and a little bit about her campaign platform.
Simmons says that, growing up, her parents were very supportive of her taking political initiative.
"My parents always encouraged us to get involved in public service and to be grateful for the political rights we have in this country.  My mom in particular was an inspiration to me. She took me to the Democratic National Convention in the nineties to hear Clinton speak, which was incredible!" she said.
Simmons also cites her time at GA as influencing her decision to become a politician. She says that GA's positive environment helped her to "gain more confidence and self-esteem as a woman."
Specifically, Simmons remembers teachers like Mr. Mark Feiner, Ms. Connie Blunden, and Mr. Manella encouraging her to, "speak up in class, stand up for [her] beliefs and seek out public service opportunities."
Overall, she considers GA "…a wonderful community: where everyone is supported and cares about the wellbeing of one another."
One issue Simmons is very passionate about is the fact that women are underrepresented in the United States government. Women make up more than fifty percent of the population, yet they hold only one-fourth of all state legislative seats nationwide and only one-fifth of all Congressional seats.
Additionally, Simmons' main campaign focuses are on education, small businesses, and public safety in Stamford. She molded her political platform based on the feedback she received from citizens while campaigning.
Simmons is always looking for people eager to help out on the campaign. If you ever have some free time, take the opportunity to answer phones or knock on doors for her. It is a wonderful and educational experience.
Personally, volunteering for her taught me more about how a political campaign operates than I ever expected to know. Campaigning for Caroline Simmons is rewarding. Hopefully, everyone's hard work will pay off during election time in November.