Author Chimamanda Adichie Visits GA
On Thursday, September 11 Chimamada Adichie, author of Americanah, Half of a Yellow Sun, and Purple Hibiscus, visited Greenwich Academy. Adichie's work has been recognized worldwide.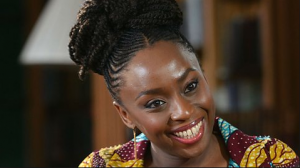 Her writing has won her The Commonwealth Writers Prize and The Orange Prize for Fiction. Americanah was selected by The New York Times as one of the Top 10 Best Books of 2013.
Adichie was also featured in Beyoncé's song "Flawless."
Adichie spoke about Americanah at one large all-upper school assembly She then fielded questions for smaller groups of students during D and E blocks. During these meetings she addressed the issues of race in America. "Race is America's original sin," said Adichie.
She went on to talk about how many find it difficult to talk about race or the problems of racism in The United States. She explained that, while it can be difficult, we must speak up.
She said that racism is a problem that must be discussed, because if we stop talking about racism we will forget that it exists. "She really gave me some perspective on race in America" said Maggie Varvel, Group IX.
Adichie doesn't want us to forget that different races exist either. She explained that we should notice others' differences because they are there, but we should not make assumptions or judgments because of those differences. "Race is not the problem, racism is," she said.
Adichie also spoke about the topic of gender equality. She expressed her aggravation with the way many girls are raised today.
She said girls are raised to shrink themselves and compete against other girls for boys' attention. They are told to "be good" and "be likable," which is a dangerous message.
It is the reason, she says, why many readers did not like Ifemelu. Many readers claimed she is too mean to her boyfriends. "For characters in literature, being likeable is fine, but being interesting is what's important," said Adichie, in response to this critique.
The same goes for women in real life. Adichie herself says she would much rather be interesting than well liked. Even more importantly, she would much rather be herself than well liked.
Adichie also spoke a lot about the details of the book and explained some difficult scenes to students. "I felt like I understood the book on a much deeper level," said Ashley Beeson, IX.
Adichie's visit was extremely helpful and allowed many girls to grasp the point that she is trying to make in Americanah.
It also helped many students get a better understanding of the oppression that minorities and women face in America today.