QB1, Billy O'Malley, Senior
What was it like playing in your last homecoming game?
Playing in my last homecoming was a little bitter sweet. I've been going to homecoming at Brunswick since I was about three years old and have been lucky enough to be able to play in the past three homecoming games. It's a little weird to think that this was the last homecoming that I will play in, but it was great to get a win. We were coming off a loss and playing against one of the top teams in our league, but everything just clicked. To go out in front of so many alumni, students, faculty, and parents-to play like we played- was a great feeling.
How did you help prepare your teammates and lead them to victory/ is there something that made the team so successful? 
I think the majority of the preparation for the game came during the week. I just tried to keep everyone focused on the task at hand and have the best practices we could possibly have. The older guys knew how important this game was, so we all worked to keep everyone relaxed and focused on playing our game. Looking days or weeks ahead of us, doesn't help anyone, so we wanted everyone to just focus on that day. On game day all the preparation is done and it's just time to play.
What was your mindset going into the game?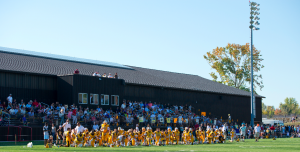 As cliche as it sounds, my mindset going into the game was just to have fun. After last year's great season we had a tremendous amount of pressure and high expectations to uphold, so when we went out against Avon Old Farms earlier in the season,  we tried to be perfect. In that first game, we stopped having fun and played tight, which caused many mistakes. Going into this game I just decided to play loose, have fun and see what happens. I tried to not think of all the people there and just focused on playing how we know how to play. Everyone does things differently, but personally I just like to be alone in my locker listening to some relaxing music, like Carrie Underwood or something like that.
Can you talk a little bit about the speaker that talked to your team before the game? 
This year, a former teammate of our coach, Shawn Harris, came to speak to us before the game. He calls himself The Motivator. He came in the locker room about ten minutes before the game and helped us get our minds right for the game, and really the rest of year. He stressed the importance of playing for each other and living in the moment. He told us that no matter what you have going on off the field, that once you step onto it you have to change your mindset and be ready to battle for three hours. He's a great guy and really helped our team a lot. You can follow him on Instagram @TheMotivator.
What was your favorite part of Homecoming weekend this year?
Although my favorite part of homecoming is the football game, there are so many other great things going on throughout the week. I think spirit week is awesome and love seeing all of the costumes everyday.  I thought some of the costumes were really well done and funny. I think the best theme this year was the Seniors' "Hip Hop" Day. I think second place would have to go to the GA Soccer Team's "Rocky Balboa" theme.
Has your homecoming experience changed since your freshman year? If so, how?
The dance is also always a lot of fun. As a freshman, I was pretty shy at the dance and hung with my friends in the back of the gym. But this year, I had a lot of fun dressing up with my team. Every year the football team has there own theme for the dance. When we found out the dance's theme was jungle, we wanted to stick out a little bit as a team and decided sailors would we a funny way to portray that. There were also some other costumes thrown in there like superheroes, doctors etc. Overall, I think every year the weekend got better and better and that this year was the best one yet.
QB2 (Queen Bella), Isabella Crawford, Senior
What was it like knowing that this was your last homecoming?
It's crazy to think that my last Homecoming has come and gone in what feels like a blink of an eye. It seems like just yesterday that I was standing awkwardly in the back of the gym, too nervous to dance in front of all of my new classmates at the beginning of my freshman year. I remember leaving the dance and thinking that Disney channel had lied to me for all of those years, in showing the outrageously fun school dances. But after four years, I have forgiven Disney because they really didn't lie to me at all—school dances are fun. This year's homecoming proved that to me.
Has your homecoming experience changed since your freshman year? If so, how?
There is so much more to homecoming than my freshman self had ever thought about. I realize now that homecoming really brings both GA and Brunswick together. The entire week leading up to it is one of the most exciting and unifying weeks of the entire school year. From seeing everyone dress up in crazy outfits all week to cheering on our teams at the games, the whole week is about supporting each other and our school. Through dressing up, grades and teams bond so much during this week. I personally don't think that the class of 2015 had ever been as close as we were on that Friday dressed up as Hip Hop Stars. The difference between the seniors and the freshmen, is that the seniors, in general, have a lot more confidence in themselves and are not as afraid of being judged for wearing that crazy costume or going all out on the dance floor.
What was your favorite part of homecoming this year?
From the themed outfits to finally being in the center of the 'pit', everything about my senior homecoming was just as fun, if not more, than I had expected it to be. Dancing my heart out with my classmates next to me had never been so fun. I felt like our class was so united going into the dance and we all had such an amazing time together. For me, the culminating moment for our grade was when we brought our first day flash mob back out and danced to 'Bang Bang' together. The key to having a fun filled homecoming week is to really just buy into the system and dive in whole-heartedly into all of the festivities. After talking to several freshmen about their first homecoming, I think that the general consensus is that it was disappointing and not much fun at all.
Any advice to the underclassmen for next year's homecoming festivities?
Homecoming, and high school in general, is so much more fun when you are not worried about what other people are thinking of you. So in line with this year's motto, just do you. I can guarantee you'll have a lot more fun that way.