A Boy, A Girl, and Sharks
Sharknado Steals Show from "Shark Week" 
By Kirk Meyer '15, Editor of the Wick Chronicle 
Discovery Channel's Shark Week has become a summer institution fighting off challengers on cable and network television every year. However, this summer it may have finally met its match in the Sharknado franchise. After last year's surprise hit, Sharknado was back for more with an aptly named sequel Sharknado 2: The Second One.
Broadcast by the SyFy channel, Sharknado captured audiences' imaginations last summer. The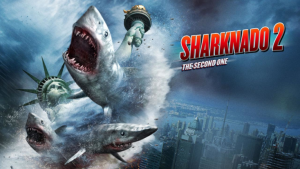 nonsensical story of waterspout tornadoes picking up sharks and dropping them, along with massive amounts of water, throughout LA immediately blew up twitter and social media and became a cult classic.
The film's hallmark scene features Fin (Ian Ziering of Bevery Hills, 90210 "fame") jumping through a great white shark with a chainsaw and working his way out of the shark after being swallowed alive, all while retrieving his friend who had been previously eaten by the same shark. It was a brilliant piece of filmmaking that broke boundaries viewers thought impossible. No man can saw his way out of a shark, we thought. But we had not met a man like Fin.
Sharknado 2 outperformed its predecessor by drawing in 3.9 million viewers, a SyFy record, thanks to word of mouth from last summer's hit. Ziering, Reid, and company carried the film, which even featured New York landmarks such as the Statue of Liberty, Times Square, The Empire State Building, and Citi Field.
Cameos flew left and right, ranging from B-List celebrities to "Wow, that person's acting is so atrocious it must be a cameo." Every cameo, however, did have the privilege of either being eaten by, or killing, poorly-animated sharks, which often seemed to fall out of nowhere. Such is life in the middle of a Sharknado.
At its core, Sharknado 2 is a story about friendship and trust. Fin's best friend from high school, Martin (Mark McGrath) is married to Fin's sister (Kari Wuhrer). Fin is obviously uncomfortable with this dynamic, but the friends are able to unite in the face of unprecedented danger. Nothing brings old friends together like sharks and bizarre weather phenomena, so the combination of the two yields an unbreakable bond.
The film also illustrates the toughness that New Yorkers have. They don't give up because their city is being flooded with sharks "at a rate of two inches per hour," no, they fold their thin crust pizza in half and battle these foreign invaders together.
The film also offers a different perspective on the characters we've come to know and love. On the outside, Ziering's Fin appears to be a caricature of action heroes, rasping every line gruffly for no reason other than an apparent sore throat. But in this incarnation of Sharknado, he reveals himself to be emotional and feeling, stressing to an injured April that she must stay safely in the hospital with her hand-less arm.
Of course April, for her part, refuses Fin's pleas and meets him at the top of the Empire State Building for a climactic final scene in the tradition of film greats like Affair to Remember and Sleepless in Seattle.
Last year, on Access Hollywood Live, Tara Reid claimed to have been initially "embarrassed" about her role in the original Sharknado, but there is no reason for her to be. Her decision to take the role of April demonstrated her courage and determination to stoop incredibly low all for a paycheck and an opportunity to remain in the national spotlight.
Syfy has already announced that they picked up Sharknado 3 and will release it next summer.  It is rumored that the franchise's next step is to go overseas, so the eyes of not only America, but also the World, will be watching intently.
As Fin puts it so eloquently: "I know you're scared. I'm scared, too. They're sharks, they're scary."  Even in the face of unspeakable danger, he is able to give a voice to what we are all thinking.
My Secret Love of Sharks 
By Lena Mersereau '16, Staff Writer
This past August I found myself glued to the television along with 42 million other Americans to watch Discovery Channel's "Shark Week." What we all must wonder is: what keeps this many people coming back year after year since 2000 simply to watch sharks all day? I know my reason. Every summer, Shark Week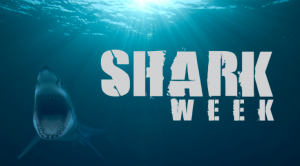 airs the day I get back from camp, and something about rogue sharks cures post-camp depression.
For those of you who have not found yourself in this trance of shark attacks, marine biologist investigations and Jaws re-runs, you are definitely missing out. My interest in sharks dates back to the Dark Ages, or what some of us refer to as "middle school." I distinctly remember doing a science extra credit paper on my love of marine biology, and specifically sharks. Something about sharks being one of the most dangerous predators to humans, besides humans themselves, struck me at a young age.
I may say sharks are my "favorite animal," but really I am deathly afraid of them. Up until last summer I hardly went into the ocean. But recently I have been braver—for example jumping off a dive boat in Hawaii just after seeing a circling tiger shark. I am also hoping to cage dive with great whites off of South Africa sometime in the future.
Yes, I was the 8th grader who would remind the random stranger that "the rise in population of great whites off of Massachusetts correlates with the increase in seals," and to this day I have a great appreciation and fixation with sharks. In my opinion, it is fascinating how humans can love something we fear … kind of like our relationship with the Brunswick boys.
Shark Week has kept and will keep ratings high because sharks, and the world they live in, remain one of earth's well-kept mysteries.