Meikle Run Recap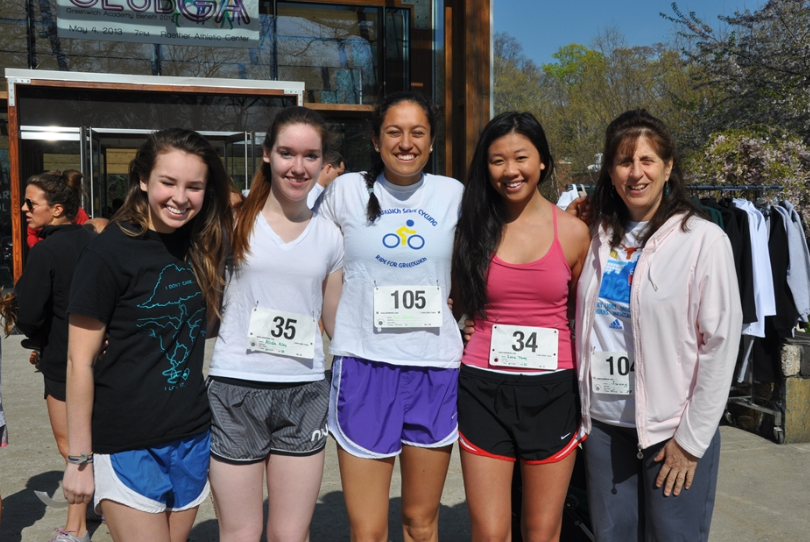 On April 27, a crisp and sunny Sunday morning, GA's annual Meikle Run went off with its usual flair.  The event is held every April on Alumnae Weekend in commemoration of Mrs. Elizabeth Meiklejohn, a beloved Upper School math teacher and cross-country coach.
To fundraise for the event, the Upper School sponsors a Pi(e) Sale to honor Ms. Meiklejohn's love of math. The run itself, to honor her second love, is a distance of 3.14 miles. The event's proceeds go to the Melanoma Research Foundation, in honor of Ms. Meiklejohn, who died of skin cancer in January, 2008.
This year there were two options for participants: running or walking a 3.14-mile course or a 1-mile course. For the more mellow distance of 1 mile, participants were encouraged to bring their families, strollers, and dogs, while the 3.14-mile event was a bit more competitive. Whichever option people chose, all had a good time.
The fundraising effort for the run was outstanding this year. The pie sale on April 3rd sold all kinds of pie, from apple, to whoopee, to pizza. In addition, Meikle Run t-shirts were sold to support the event; this year's colors (they change every year) were white and light blue. There was a great turnout for this event, despite it being one of the busiest times of the year.
"The thing I love about the Meikle Run is that it provides the opportunity for the community to come together (families, alums, faculty, students) to participate in the memory of a beloved coach and math teacher and furthermore raise money for a good cause," said Ms. Rachel Powers.   
It was a great day to run for a great cause.