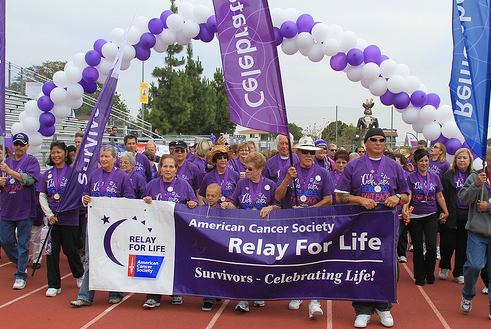 As cancer remains the second most common disease in the United states, with 1,655,540 new cases and 585,720 deaths in 2014 alone, it is no surprise that organizations and institutions across the country are supporting the cause now more than ever. From school clubs and fundraisers, to established organizations, many people are making strides in the fight against cancer.
On Friday, June 6, Brunswick will host a "Relay for Life" event, sponsored by the American Cancer Society.
The event made its debut in Tacoma, Washington in 1986. Today, Relay for Life takes place in towns nationwide, giving individuals and "teams" the opportunity to make a difference.
The event is located in a community's park or on local tracks where teams set up camp on site for the duration of the event.
This year, in Greenwich, the event will be held on the turf field at Brunswick School on King Street. Individuals sub out for eachother as they run or walk around the track or field. To symbolize the idea that "cancer never sleeps," events can last for 24 hours, although most end after twelve hours, as will the walk at Brunswick.
Relay for Life is an incredible experience. It gives an individual the opportunity to make an impact and support survivors and lost loved ones. Although Relay for Life brings incredible donations and fundraising, the event itself is above all inspirational.
"It was a really good event, I met a lot of people and it was really nice to see a lot of people actually running, walking, taking a stand, and helping out," said Lucy Hamilton, Group IX.
"I did it with a bunch of friends and her family, we stayed there all night, it was just a great evening," Hamilton added.
Many Relay for Life veterans value traditions such as the "Luminaria Ceremony" and "Survivor's Lap." The Luminaria Ceremony is a time in the middle of the night when candles are placed in bags and lit up all around the track or path.
Teams honor team members or lost loved ones for whom they are walking for, on the bags. The first lap of the event is known as the Survivors Lap. Cancer survivors make their way around the track, together, as one unified power against cancer.
There isn't a cure for cancer yet, but every effort brings us closer to finding treatments and a cure. Join us at King Street to make a difference.