The GA Athletic Department organized its annual pre-season trips in two locations this year. For the first time, the lacrosse, softball, and track teams went to Houston, Texas. The sailing and crew teams returned to Florida.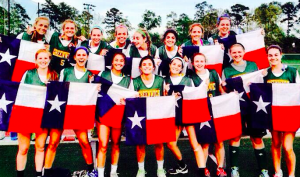 In Texas, all three teams competed at the St. John's School and the Kincaid School in Houston.  The lacrosse teams, both Varsity and JV,  won their games. The track team had the opportunity to attend a high school/college meet. And the softball team benefitted greatly from the opportunity to practice with their new coach, Mr. Charlie Pia.
"Our new coach, coach Pia, was really experienced in softball and his new coaching style definitely helped make our team stronger," said Ally Staab, XI.
Since many of the lacrosse, softball, and track team members had never been to Texas, it was a great opportunity for them to experience a different part of the country.  And the "Texas experience" was not limited to the playing fields.
The teams joined their opponents in a cookout after their games,  attended a rodeo, and tasted authentic Texas cuisine.
The rodeo consisted of sheep, cow, horse, and bull riding. and ended with a concert by Zach Brown. Everyone really enjoyed themselves at the rodeo; Tati Viola, X, said it gave her "a true taste of Texas."
The lacrosse team enjoyed dining out at Ragin' Cajun where they were able to try delicious crawfish. Some took such a liking to crawfish that they participated in a crawfish-eating contest, which Izzy Viola, XII, actually won!
The track team tried deep fried Oreos, which they  loved, along with other Texas BBQ dishes.
Without exception, those who participated on the Texas trip agreed that it was the perfect team bonding experience and they felt much closer to their teammates afterwards.
"I would definitely recommend the trip, it was a great bonding experience with girls from every grade," said Lena Mersereau, X.
Florida was the destination for the crew and sailing teams, where they spent every day on the water. The crew team had morning and afternoon practices in Jacksonville.
Everyone improved tremendously, including Jordan Fischetti, X, who said this was her first time rowing ever.
"I learned to row on this trip and I got to know my team; I got everything out of this trip that I could have wished for," she said.
The team bonded by sharing in cook-offs and other activities in between practices.
Meanwhile the sailing team got reacquainted with the water in Jensen Beach, Florida. They woke early every day to get on the water and begin training, including eating their lunches in their boats.
This year's team is composed of only eight girls, which allowed them to build a special bond on this trip. In their down time, the team went to the pool or beach. Tasha Recorder, X, reflected on her improvement.
"I hadn't sailed since last summer so getting back on the water with my teammates got me back into the rhythm and excited for the upcoming season," she said.
The value of pre-season trips are many.  The trips offer a great way to start off the season fresh and for everyone to feel more connected to and involved in their team. In fact, members of the tennis team lament not having a trip of their own.
"We wish we had a trip so that we could build more of a team bond and get used to the players on our team. Because it was so cold here, we had limited time to practice outside before the season picked up," said Alexa Beeson, X.
Having the opportunity for more practice time before the season starts is helpful for the players and coaches. It also allows the team to learn new plays, adjust to the coaches and teammates, and to bond.
This year's pre-season trips were a great success.